The premiere of realme GT Neo3 , the latest smartphone from a well-known manufacturer in India, took place in China. We do not know yet when the device will appear in our country, but this should become clear soon. Now, however, we can take a look at the new equipment, which is certainly distinguished by very fast charging. It is the first device from realme that offers as much as 150 W , although there will also be a "slower" version of the smartphone to choose from.
The premiere of realme GT Neo3 – fast charging is essential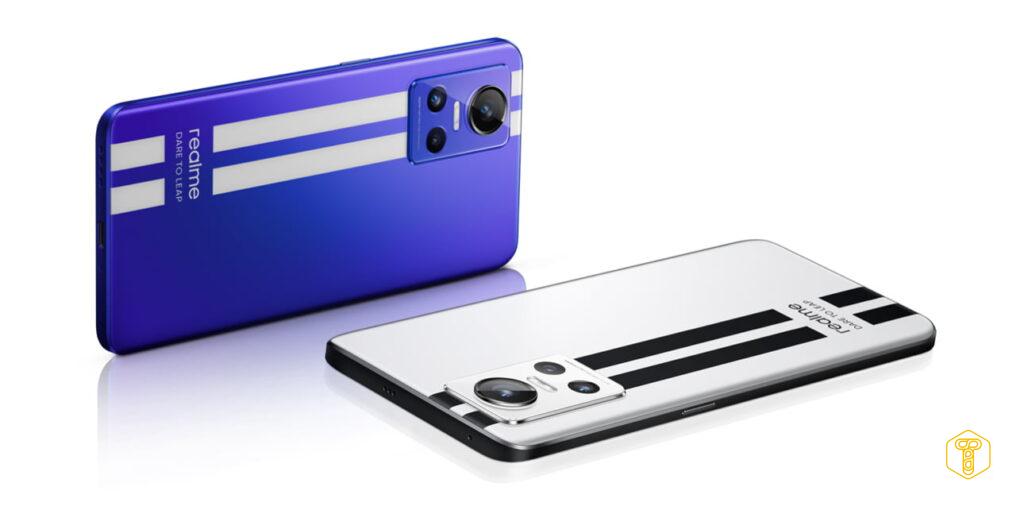 It cannot be denied that fast charging of smartphones can make life easier. After all, battery capacities vary, but you usually have to recharge your equipment every day or every other day. Since it can be done faster, it is no wonder that many manufacturers opt for such solutions. And it is no different with realme, which today presented its next smartphone in China. This time it was realme GT Neo3, and the quick charging of 150 W was already announced by the manufacturer during the Mobile World Congress in Barcelona. It is worth saying here that the new realme will appear in two versions, which will differ from each other in terms of fast charging and memory. This is how they look like:
4500mAh with 150W Fast Charge (5 minutes = 50 percent, 8/12/256 GB)
5000 mAh with 80W fast charge (up to 100% in 32 minutes, 6/128 GB)
As for the rest of the smartphone specifications, this one is exactly the same. Users who want to buy a new smartphone will have to consider whether they really need such fast charging. Especially that the 80 W version also has a larger battery capacity. Here, however, realme gives "only" 6 GB RAM and 128 GB for data in the weakest version, but fortunately they are also more powerful. You can see, however, that the manufacturer focuses on the 150 W version, which is understandable of course, and the prices of both are similar. We are talking about a very big leap in fast charging that customers can expect.
Read Also: [Review] realme GT 2 Pro – it is definitely a flesh and blood flagship
Realme GT Neo 3 Specifications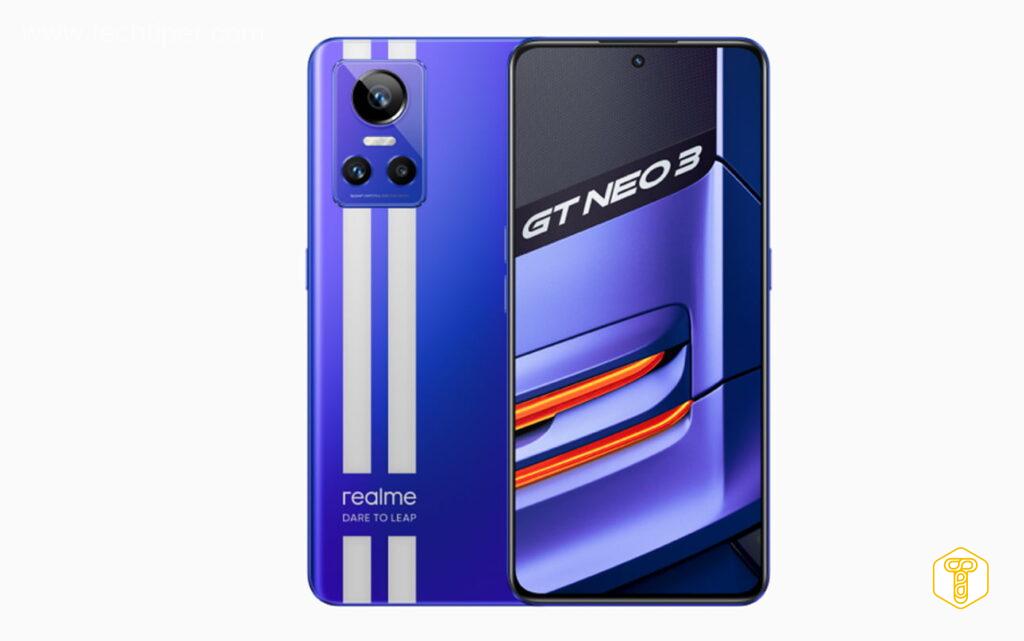 Display: AMOLED, 6.7 inch diagonal, FullHD + resolution (2412 × 1080 pixels), Refresh rate: up to 120 Hz (1000 Hz sampling rate), Contrast: 5,000,000: 1, 1.07 billion colors, DCI-P3 100 %, Corning Corning Gorilla 5
Processor: MediaTek Dimensity 8100 5G (5nm) with Mali-G610 MC6 graphics
RAM: 6/8/12 GB (LPDDR5)
Flash memory: 128/256 GB (UFS 3.1)
Front camera: 16 Mpix (f / 2.45)
Back cameras: 50 Mpix (f / 1.88, Sony IMX 766 OIS); 8 Mpix (f / 2.25, wide angle 119 degrees); 2 Mpix (macro)
Battery: 4500mAh with 150W fast charge (5 minutes equals 50 percent) / 5000mAh with 80W fast charge (100% in about 32 minutes)
System: Android 12 with realme UI 3.0
Additionally: Bluetooth 5.2, in-screen fingerprint reader, dual speakers, Dolby Atmos, NFC, DualSIM, DualSIM VoLTE, Wi-Fi 6
Dimensions: 163.3 x 75.6 x 8.2 mm
Weight: about 188 grams
Will such charging be safe for the smartphone and the user?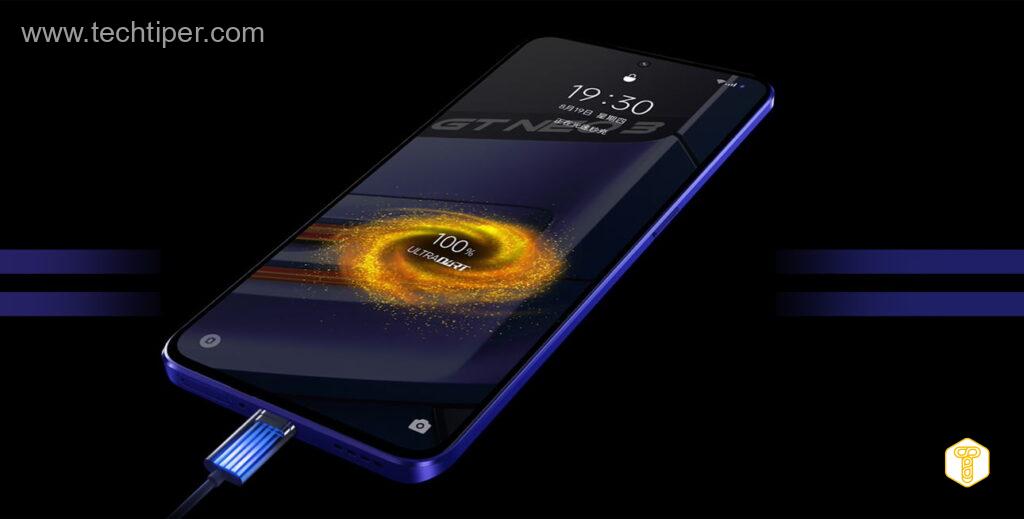 Realme called the new charging system UltraDart , which seems to be an appropriate name for the capabilities of the hardware. However, realme has also put a lot of emphasis on the fact that the new charging does not affect the battery life, and therefore the safety when charging and using the realme GT Neo3. The company has introduced almost forty different types of security, one of which is to be a special algorithm that manages the temperature during charging . Here it should be such that the temperature will not exceed 43 degrees Celsius. At the same time, realme ensures that the batteries used are to retain up to 80% of their capacity even after 1000 full charging cycles. Of course, here, laboratory tests were used for such results, so you actually have to wait a while to check it. However, a thousand full cycles is about two years of using a smartphone, so if the result is at a similar level, it will be very good. Let's add that the batteries have been divided ( 2 × 2250 mAh ), so this will also have an impact on the operation of the device. You have to wait for the first tests to see if UltraDart actually offers exactly what the manufacturer promises.
Read Also: Realme 9 Pro Plus review: mid-range smartphone with the best camera
What else does realme GT Neo3 offer?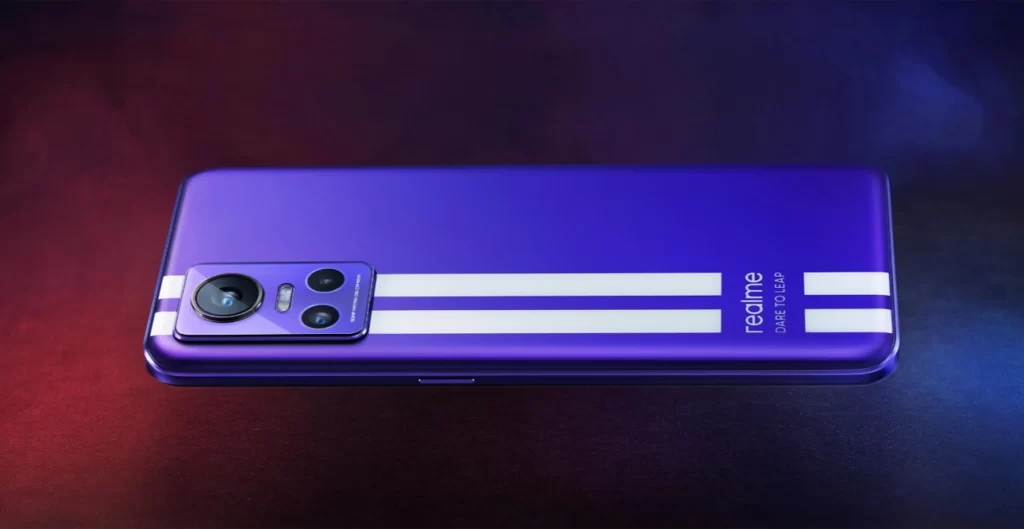 Looking at the specification of the realme GT Neo3, it can be concluded that the manufacturer is targeting the upper middle shelf. New MediaTek Dimensity 8100 processor . In comparison with up to 12 GB RAM and fast memory (UFS 3.1), no one should complain about the device's performance. In terms of appearance, the realme GT Neo3 does not introduce any special novelties. We still have a familiar design here, to which the company has already got used to it. This is of course a plus, although not everyone may like the color versions. Here are to appear as many as three: blue (Le Mans), silver (Silverstone) and black. The first two are characterized by white stripes on the back, which, of course, are supposed to refer to the paintwork on cars and symbolize speed. Given the fast charging capabilities, in fact such versions can be adopted on the market.
The new realme GT Neo3 also offers quite an interesting set of cameras, where the main eye uses a matrix from Sony and optical image stabilization . In addition, there is also a wide angle and a macro lens, which allows you to take pictures even from a distance of 4 centimeters. Of course, the equipment will come out with Android 12 on board and realme UI 3. 0. The display also has a fingerprint reader, which in addition is to be used to monitor the user's heart rate. A nice accessory, but not necessarily needed.
Read Also: OPPO takes on fast charging – now 150 W, and soon 240 W
The price of realme GT Neo3 – is cheaper than you might expect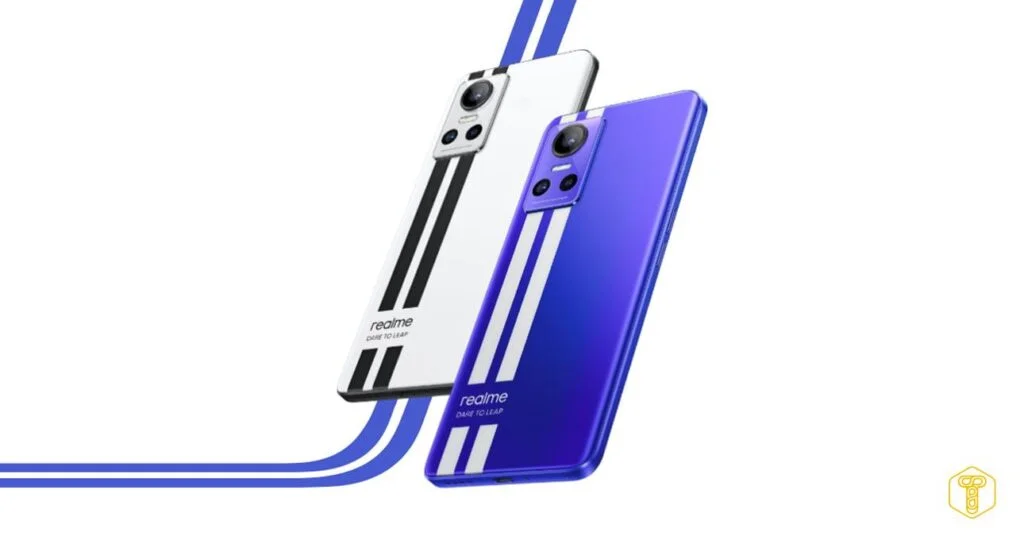 Now let's move on to what may be the most important in the context of the premiere of realme GT Neo3, i.e. the price of the device itself. We got to know the prices for the Chinese market, so the Indian equivalent will certainly be different, but it shouldn't be much more expensive.
realme GT Neo 3 (charging 80 W; 6/128 GB) – price 1999 yuan
Version 8/128 GB – price 2299 yuan
12/256 GB version – the price of 2599 yuan
realme GT Neo 3 (charging 150 W; 8/256 GB) – price 2599 yuan
12/256 GB version – price 2799 yuan
Source: realme / GSM Arena
About Post Author