Many of us wonder what 55-inch TV to buy? After all, it is one of the most popular choices among the screens we are looking for for the living room. In this text, we will indicate some suggestions that will help you answer the question of which 55-inch TV to buy. Among the fifty-five-inch TV sets, the choice is huge, and in any amount, and for many, the numbers in the descriptions are not enough to make a reliable decision.
After all, you might be wondering, OLED or QLED ? An important aspect is also choosing the size of the TV set to the distance, because perhaps it will be worth considering a larger screen ?
What 55-inch TV to buy for a bright living room? Hisense U8HQ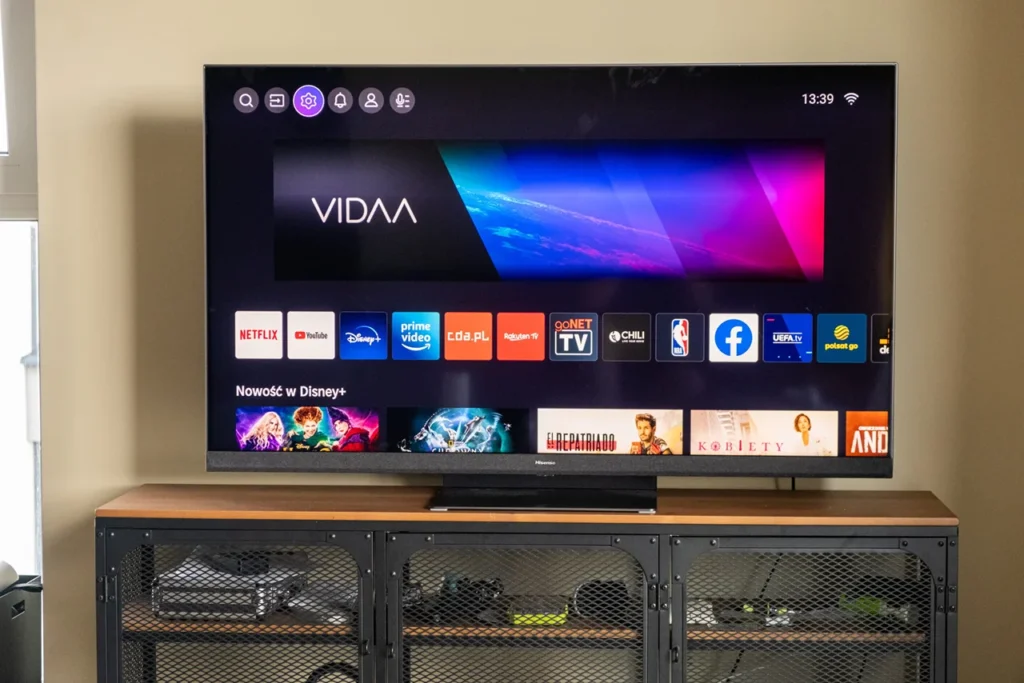 Hisense U8HQ is a very interesting proposition when wondering what 55-inch TV to buy. It has a very good and bright image, thanks to which it will perfectly fit into a bright living room. The maximum brightness in HDR is finally up to 1450 nits. In the case of SDR films, we can get even 650-700 nits that are able to cope with the brightest room. With 120 zones of local illumination, it also offers very high contrast, making it a very versatile 55-inch TV. It also has a very good VIDAA operating system, on which you can easily watch streaming like Disney+ or Netflix . Unfortunately, HBO Max is still not available on this platform.
In addition, Hisense U8HQ has a built-in soundbar that does very well. However, it may be worth connecting a subwoofer to it to further improve the sound. Due to the presence of a 120 Hz matrix, we can connect the latest generation consoles to the TV. Due to its brightness, a TV can use more electricity than darker TVs. However, it is easy to check how much electricity the TV uses. However, if you are switching from classic plasma, don't worry. The power consumption of today's 55-inch TV will be much less.
What inexpensive 55-inch TV to buy? TCL C635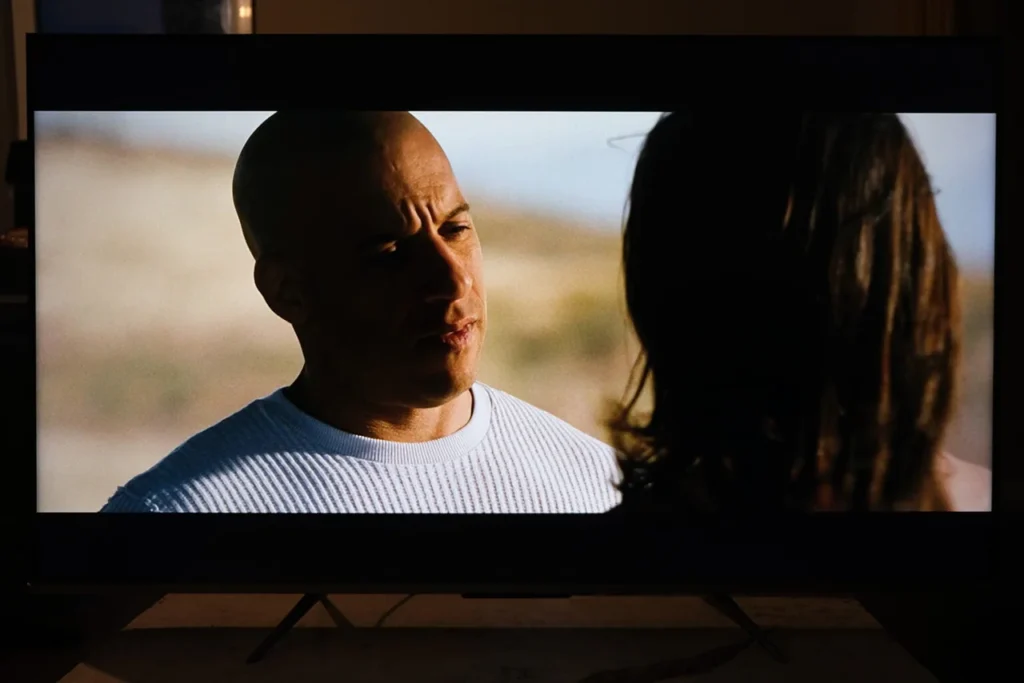 TCL C635, in turn, is a cheaper proposition, which is an ideal option for those who are wondering which 55-inch TV to buy and have a smaller budget. Of course, along with the lower price, there are some concessions, but it's still pretty good. The TCL C635 offers us a QLED matrix and a standard brightness of about 320 nits, which will allow you to comfortably watch movies in the evening or in a darker room.
It also uses a VA matrix with good contrast and a Google TV system that supports Chromecast. It allows you to connect your phone to the TV very quickly . Due to the low brightness, the TV also consumes relatively little electricity.
Which 55-inch TV to buy for Netflix? Samsung Q80B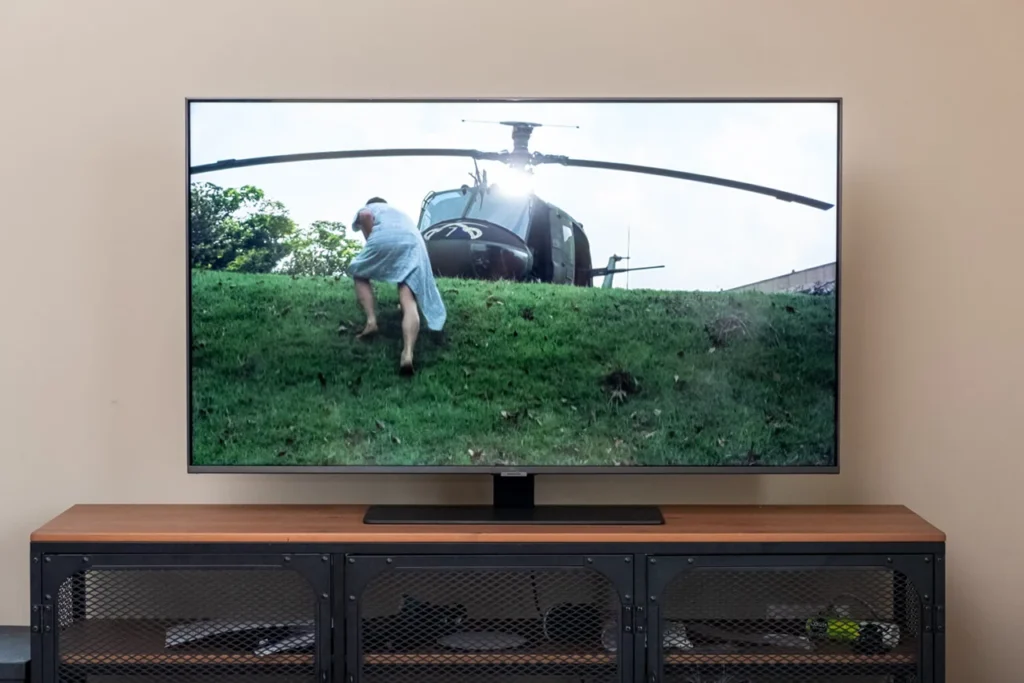 Samsung Q80B is an ideal option for people who are wondering what 55-inch TV to buy for watching streaming. It is a very versatile design that is very well centered among watchable productions. It will work both with everyday series, watching big-budget productions, and with games. High brightness of over 600 nits will allow you to watch movies in a bright room without any problems, but due to the low contrast, it does not cope well with night screenings. My family often runs Netflix during the day, and then such a TV will work perfectly.
The built-in Tizen system has many available applications, and it works very smoothly and quickly. It is also worth mentioning that it has an ecological remote control that does not require battery replacement. It can be charged using a solar panel or a USB-C cable. I myself had a problem with applications and had to reset the TV on a regular basis , but it could be a problem with the art.
What inexpensive 55-inch TV to buy with an OLED matrix? Philips OLED707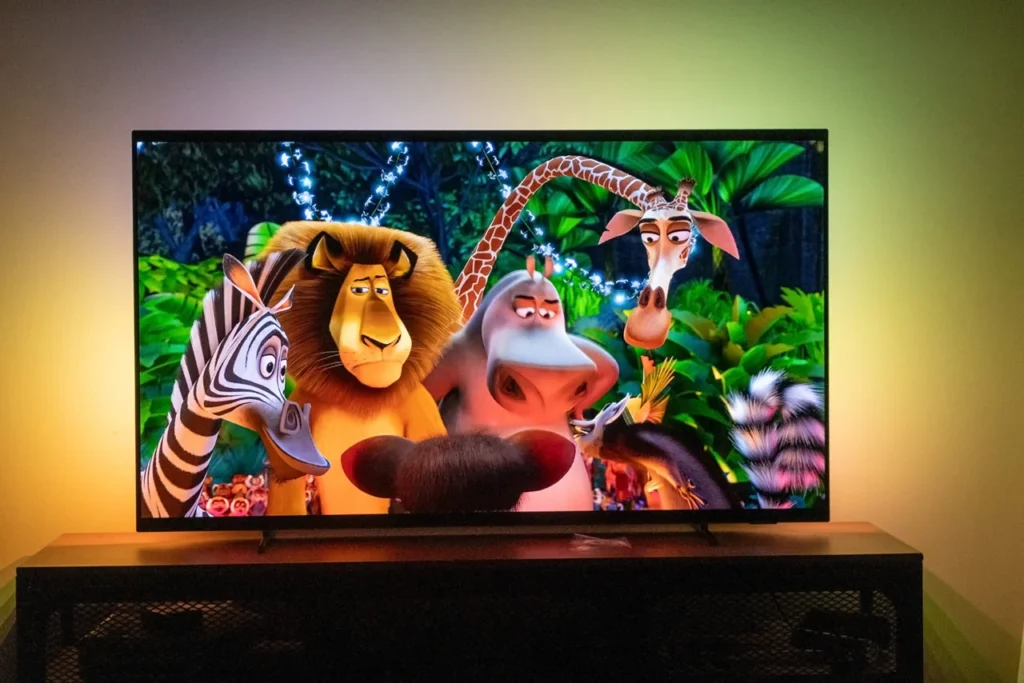 If you are switching from a plasma TV, it is worth considering switching to an OLED matrix, because it provides equally high quality, but consumes much less electricity. When wondering which 55-inch TV to buy with an OLED matrix, it is worth looking at the Philips OLED707. Despite the relatively small price, it has a 120 Hz matrix, quite good audio, as well as an ambilight that makes the TV seem larger by casting light on the wall behind the TV. This provides an amazing experience, although mainly in bright movies or colorful animations.
The TV has a nice brightness of 550 nits in SDR and about 670 in HDR, as well as the Android TV system, where you will find all the necessary applications, and we can also easily share the screen from the phone .
Which 55-inch TV to buy for the bedroom? LG OLED55A2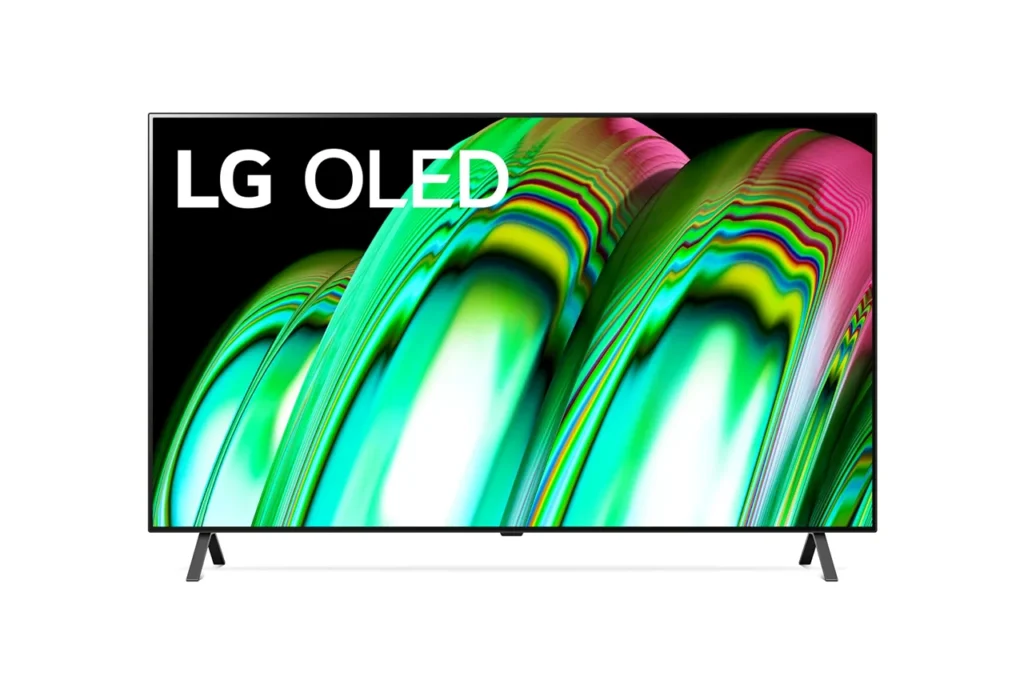 When wondering what 55-inch TV to buy for the bedroom, we must consider OLED matrices. After all, in the bedroom, we usually watch TV when it's dark, and the ability to turn off the organic pixels completely is the biggest advantage of OLED TVs over QLEDs . The model in question is the lowest of this year's series.
It is characterized by low brightness and a refresh rate of 60 Hz, but it has infinite contrast, which is a great solution for night viewing. In addition, it is characterized by decent sound and one of the most interesting operating systems, where all the necessary applications are. As a remote control, we get a magic remote that has the ability to control movement instead of arrows, which can be very convenient.
What cheap 55-inch TV to buy for the bedroom? TCL 55P615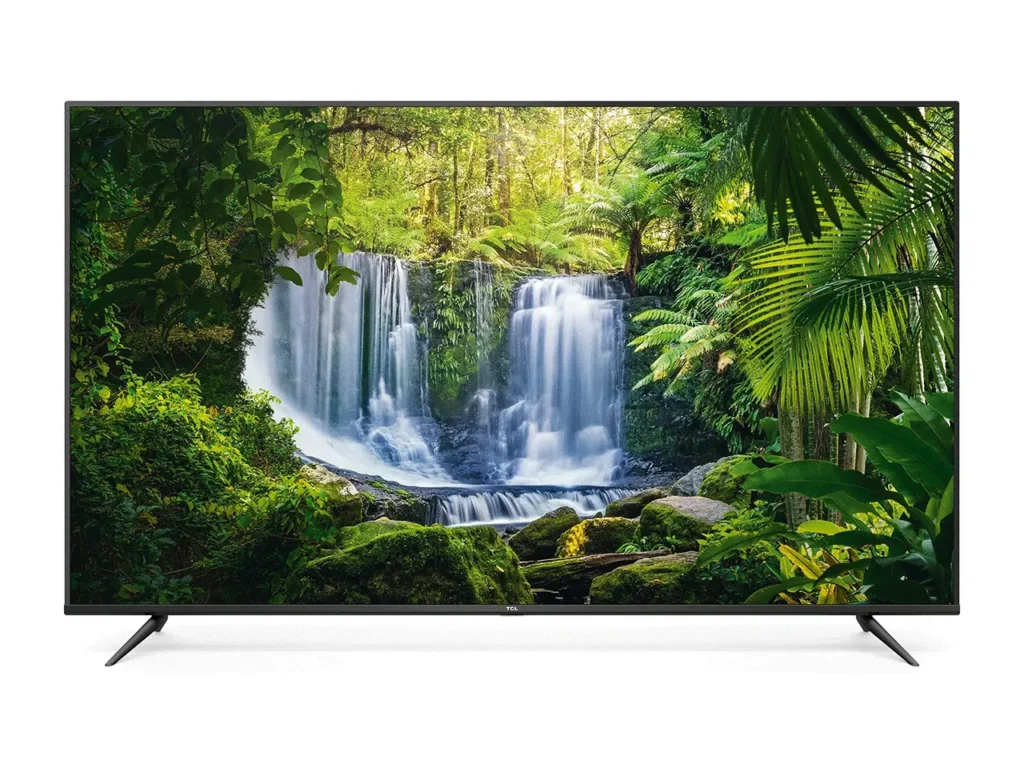 If, however, we watch less often in the bedroom and think what inexpensive 55-inch TV to buy for the bedroom, it is worth looking at TCL. Model 55P615 is a very cheap TV with Android TV, where we will find all the applications we need. Of course, the TV has a 4K matrix in VA technology, which provides decent contrast. With 2GB of RAM, the TV runs smoothly for its budget. Brightness is around 250 nits in HDR, which is standard for this price range. There is also a reasonable sound, which will allow you to watch movies at night very pleasantly.
Which 55-inch TV with good sound to buy? Philips 55OLED907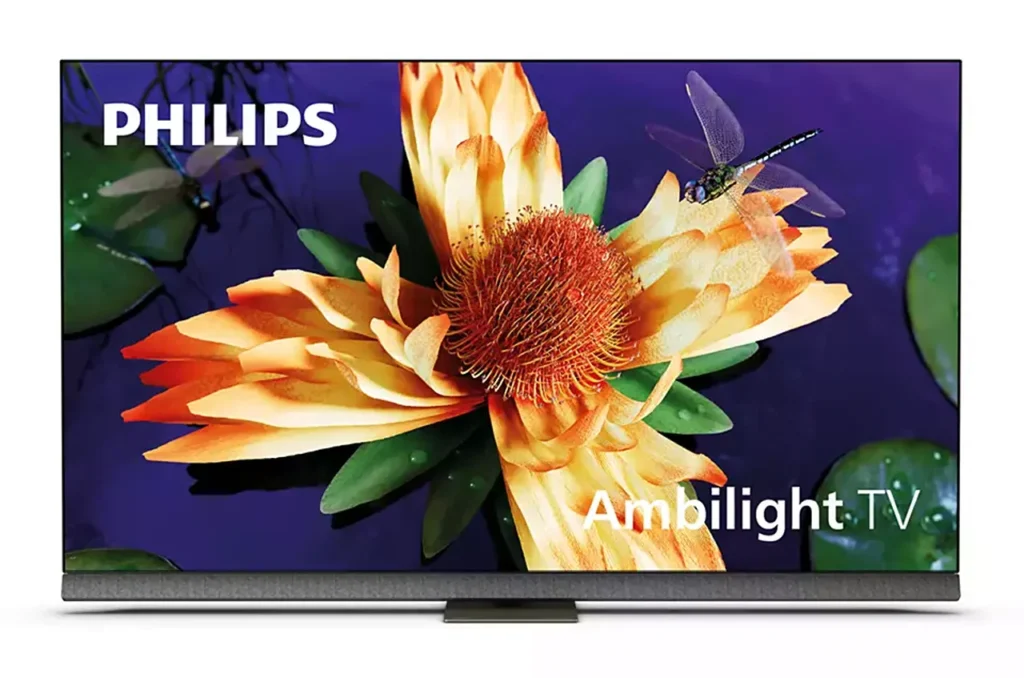 If we do not want to buy a soundbar or audio system, we are most likely thinking which 55-inch TV to buy with good sound. Earlier, we already mentioned the Hisense U8HQ, which also has very good sound quality. This time, however, we are talking about a slightly higher-end product, because the Philips 55OLED907, which is almost the highest model.
It has Ambilight, which makes the TV optically larger. Ambilight is a lighting system that adapts to the image being displayed and casts light behind the TV. In this model, of course, a four-sided ambilight was used, thanks to which it looks great on the wall.
If we plan to hang the TV on the wall, it is worth hiding the cables, which can also be done without forging . The TV should also be hung at the right height. This may not be obvious to many people. We must also not forget about choosing the right handle . It would be a shame if an expensive TV fell through an ill-fitting wall mount. In terms of image quality, it is almost top shelf.
It has an OLED matrix with a refresh rate of 120 Hz, making it ideal for this year's consoles. High brightness will also provide us with the ability to watch movies during the day, and infinite contrast will also allow you to watch movies at night.
Which 55-inch TV from the top shelf to buy? Samsung QE55S95B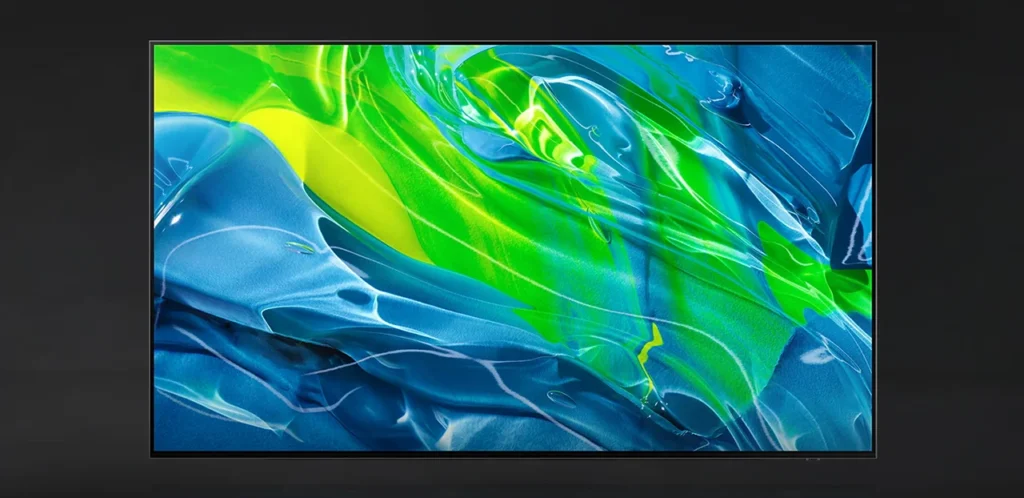 Samsung QE55S95B has a QD-OLED matrix, which is a combination of QLED and OLED matrices . It combines their best features and minimizes the disadvantages of the lower brightness of OLED technology, as well as the lack of absolute black in the QLED matrix. The TV has a brightness of up to 1500 nits in HDR, which is an absolutely great result. Add to this almost 90% coverage of the REC.2020 space and we get an almost perfect TV.
However, you should not forget about the good sound, which I personally would improve anyway. What good is a great picture if the sound is just good? If we do not want to invest in a home cinema, it is worth looking at the Samsung HW-Q990B soundbar , which is a very good solution in this regard.
Which 55 inch TV to hang on the wall? Samsung The Frame
If we are looking for the best option for a 55-inch TV that is suitable for hanging on the wall, then we should definitely look at The Frame series. These TV sets have magnetic frames that can be exchanged to match the equipment to the room in which it will be located. The manufacturer used a matrix in QLED technology here, which has very much reduced reflections.
Thanks to this, we can watch movies without any obstacles, even when the sun is shining on the screen. Another great advantage is the TV bracket included in the set , as well as the Connect Box, to which we connect all cables. Thanks to this, it is very easy to hide this single cable without forging in the wall . The TVs have the Tizen system and a built-in option to display works of art.
About Post Author