When you plan to launch a website or add new content to it, it is important to look at and choose the right keywords to put on the page besides the idea itself. Choosing the right keywords and key phrases is one of the most important steps in successful search engine optimization, and this will have a decisive influence on increasing traffic and attracting the right audience.
Key phrases in positioning
If you want to be successful in website positioning, you need to add relevant keywords to it. You will do it at the stage of designing the website, as well as when adding new content or expanding the blog. Each page and post you add can be dictated by your content presentation needs, but they should also be saturated with keywords, thanks to which you will immediately jump to higher positions on Google or take traffic from the most popular queries.
Read Also: How to find the target audience for targeted advertising
In the following guide, we will show you how you can choose the correct keywords, but most of all, how to choose the ones that will be most valuable to you. You can apply the instruction to new websites, but you will also use many of the tips indicated in its development. Perhaps you will no longer target random keywords, but narrow them down to synonyms or phrases with a similar meaning.
How to choose the correct keywords for your website?
To choose the correct keywords, first of all, define what the page or entry you want to add will be about. Pay attention to the key phrase that usually defines the main topic, the topic covered by the content. Consider choosing phrases that will be closely related to your keyword phrase. At this stage, you can plan it yourself without using any tools, but if you have a list of a few words or key phrases, you can, for example, use the free Google Keyword Planner tool.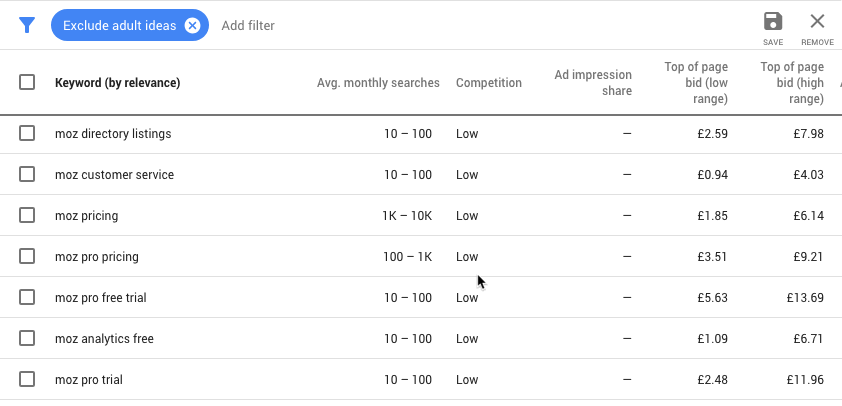 When choosing keywords, try to think like a customer. Think about what he will be looking for and whether it will be the name of the product, or its type or price. At this point, it is worth asking people around us what they would enter in Google if they wanted to find you or find your product. It can be helpful to look at the competition to determine what they present on the site and how everything is described. In the ready-made content, you will certainly find many phrases that will perfectly reflect what you need.
The Keyword Planner helps advertisers plan their advertising campaigns, but for you, the results of this tool will be a response to how many people roughly search for certain key phrases, what are similar phrases, and indicate the "top of the page" bid because it determines how much it costs to place an ad (and getting a click) at the top of the first Google page.
The values ​​are estimates, but they can provide you with a lot of interesting information and choose, for example, phrases with lower popularity but more expensive to click, which may mean less competition on the Internet. Popular phrases, as long as the positioning is correct, will allow you to increase traffic on the website. If your ad is not the cheapest when you click on it, you may be ahead of your competition and increase your sales.
Read Also: A guide on how to write a good headline – with tools, examples and reasoning
One of the interesting issues in good keywords are the so-called long tail that is words from a long tail that are a combination of at least three words or phrases. They do not enjoy too many searches, but they certainly attract more valuable user traffic and it is much easier to position yourself for them.
About Post Author