At the beginning of June, the European premiere of the Huawei bands took place – next to the Band 7, the Watch Fit 2 model debuted. While the Band 7 will target people potentially interested in the competitive Xiaomi band, i.e. the Mi Band 7, I have the impression that Huawei Watch Fit 2 is not In the end, he knows if he would like to be an advanced fitness band or a smartwatch. The manufacturer claims that it's a watch – and let's stick to that. Especially since it rivals competing smartwatches in size and feature set.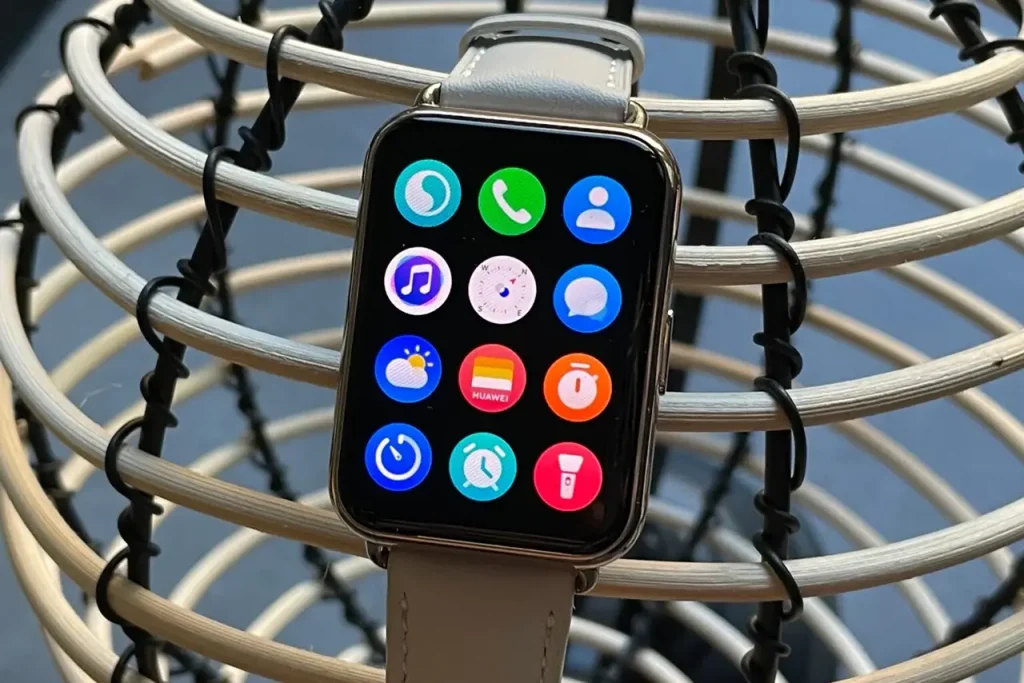 The manufacturer has prepared three versions of this device :
Active Edition – in black or pink, with a flexible TPU strap
Classic Edition – white or gray, with a leather strap
Elegant Edition – in gold or silver with a metal Milanese bracelet
Summary
Huawei Watch Fit 2 is equipment for people who need a larger screen than in typical bands, but do not want to wear a full-size smartwatch on their wrist. It is worth adding that compared to the first Watch Fit model, the second edition is a much more interesting proposition - due to the screen, working times, convenience and a lot of additional functions and possibilities that the predecessor could not boast of.
Benefits
Good working times
Large, clear screen
The ability to make and receive voice calls
Very large space for music
Minimalist design, lightness and convenience of the accessory
Numerous targets and corresponding AoD panels
Hassle-free pairing and syncing with your phone
Disadvantages
Dedicated charger with magnetic pins
Only reply to messages with quick replies
Contactless payments do not work
Some functions only work on Huawei smartphones
Limited number of additional applications
Read Also: Successful evolution of the series – Huawei Watch GT 3 Pro review
Specification of Huawei Watch Fit 2
Screen: 1.74 ″ FullView touchscreen, AMOLED, 480 x 336 pixels (336 ppi), Always-On-Display
Materials: polymer, aluminum (case), leather (strap)
Water resistance: 5 ATM (up to 50 meters)
Battery: 292 mAh, magnetic charging pins
Belt circumference: from 120 to 210 mm
Other: vibrations, blood oxygenation, geometric sensor, optical pulse measurement, 9-axis motion sensor, microphone, speaker, music player (up to 5000 songs in memory), 97 workouts, voice prompts for 7 activities, warm-up function
Connectivity: Bluetooth 5.2 LE, NFC
Navigation: GPS, Beidou, GLONASS, Galileo, QZSS
Supported OS: Android 6.0+ or ​​iOS 9.0+
Dimensions: 46 x 33.5 x 10.8 mm mm, weight 30 g (without the strap)
The new version of the Huawei Watch Fit 2 brings some changes. But are they significant enough to encourage existing users to change? Or tempt new buyers to buy gadgets from a Chinese manufacturer? We get a larger screen (18.6% larger surface than in Watch Fit, i.e. 1.74 inches instead of 1.64 inches), an improved heart rate sensor and new straps. But it is not everything.
Watch Fit 2 also offers Bluetooth voice connections, music playback (and offers a lot of memory for MP3 files, but iPhone owners will not be able to use this function), responding to messages (unfortunately only through previously set quick responses), communication with Bluetooth headphones, Healthy Living function, remote shutter (the function works only with Huawei smartphones), as well as a compass, "Always on" dials, a running ability indicator, a stretching guide and showing the way back.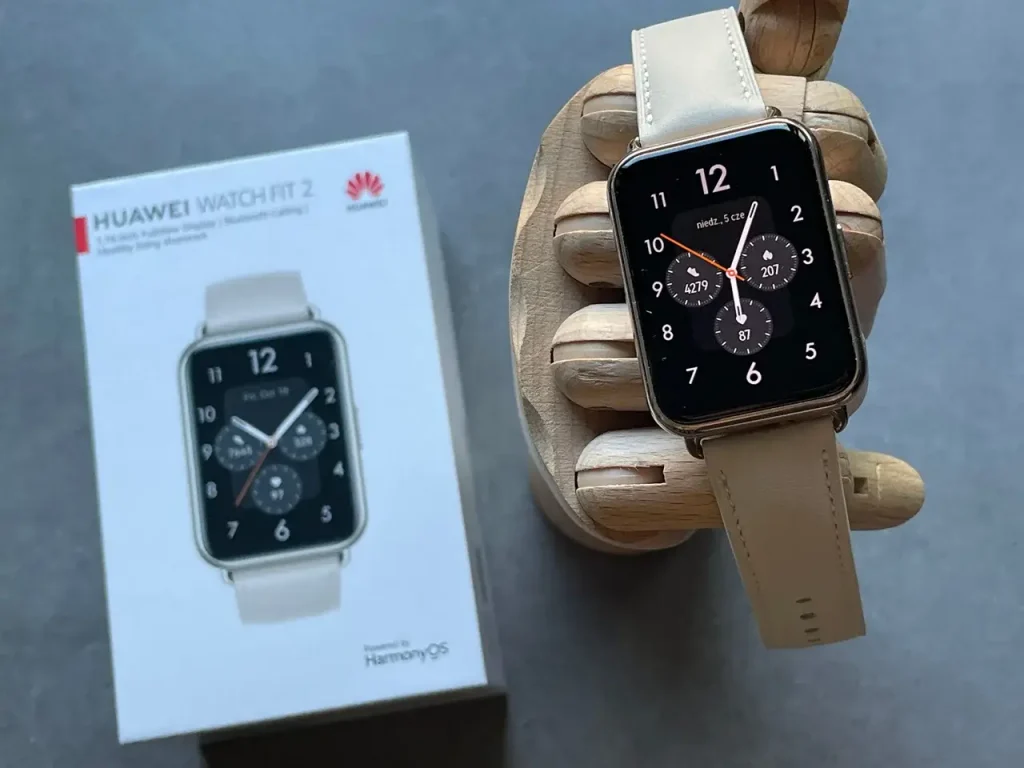 What's in the set?
The smartwatch is delivered in a white, aesthetic box with a photo of the model and basic information about its specification. The watch is placed centrally, on a spongy form, and next to it there are compartments with the manual and warranty card, as well as a cable with a dedicated charging tip. It is a pity that the manufacturer has not decided on a much more universal wireless charging that would not require a special cable.
The construction of the Huawei Watch Fit 2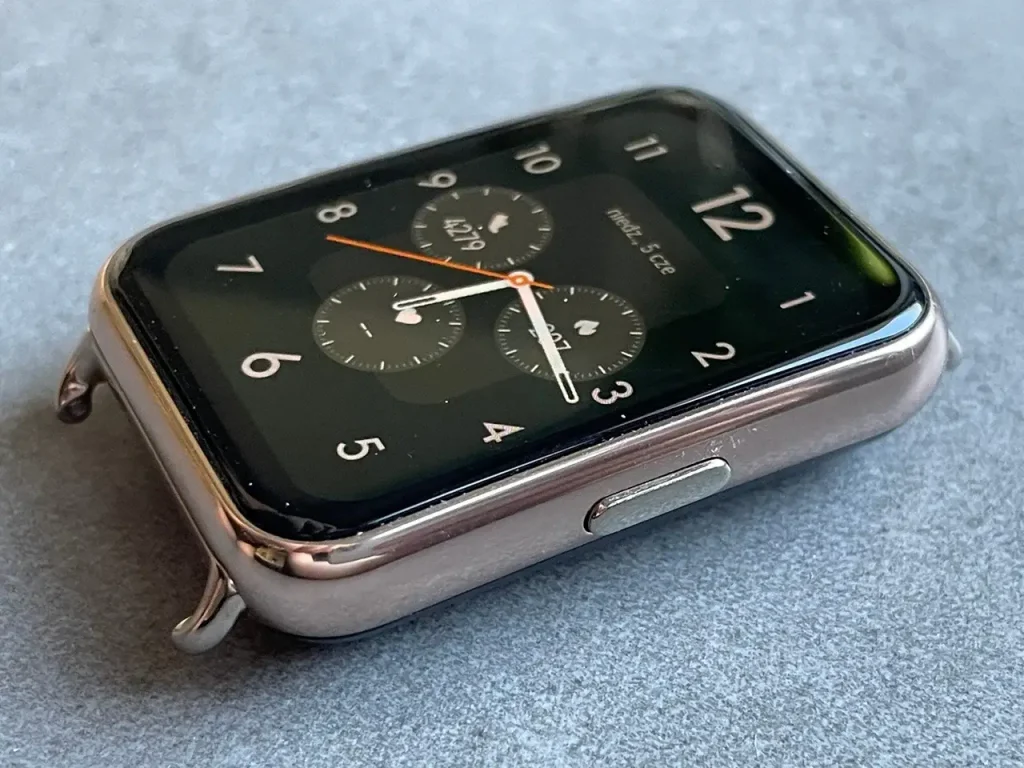 A great AMOLED screen with great contrast and saturated colors deserves a plus. It has a diagonal of 1.74 inches and a resolution of 336 x 480 pixels. It is surrounded by a rather narrow frame, thanks to which we get a relatively large space for operating the finger.
Building a watch is as simple as possible. The rectangular, slightly rounded shape is not typically band – it resembles the design of Apple watches – and the device is operated using a touch screen and a flat, oblong button on the right side of the case. It is used to call up the menu or go to the main screen.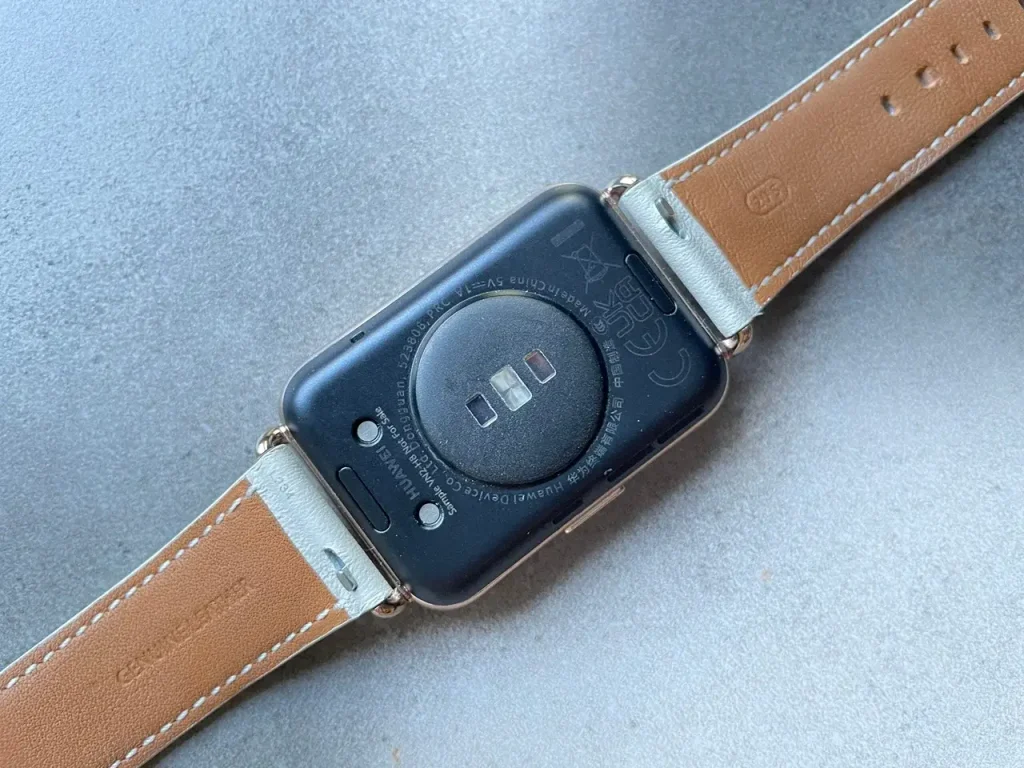 The case itself is made of metal, and the bottom is made of plastic. Not only is the (centrally located) set of sensors and magnetic pins located here, but also the microphone and loudspeaker openings – they are not damped while the watch is worn on the wrist. Anyway, I must admit that the watch is light and very comfortable – you hardly feel it on the wrist, it did not bother me even at night.
Another advantage of the band is its water resistance, determined at 5 ATM. This means that:
The device with a water resistance class of 5 ATM is water resistant up to 50 meters, in accordance with the ISO 22810: 2010 standard. This means you can use them for shallow water activities such as swimming in a pool or in the ocean. However, they should not be used for scuba diving, water skiing, saunas or any other activity that may expose the device to high pressure water.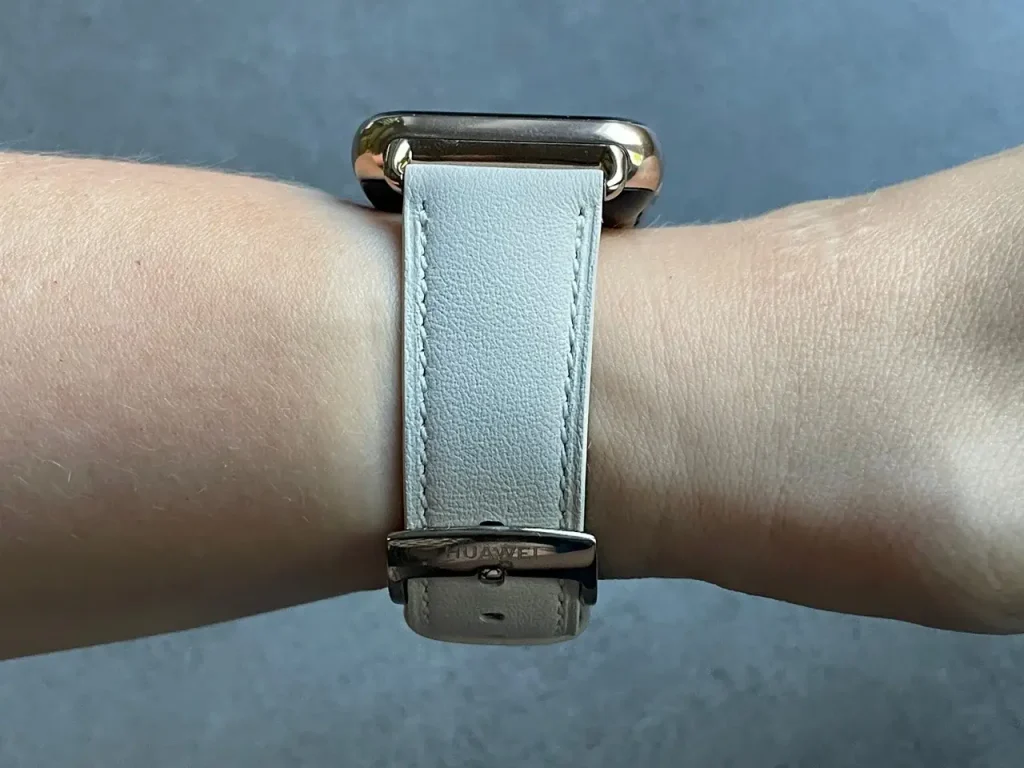 It is worth adding that swimming in a watch with a metal bracelet or a leather strap is a very bad idea, so if you care about this function, it is worth investing in the Active model, which has a plastic strap.
Belt and two fastening systems
Huawei differentiates the models from the Watch Fit 2 series through straps – Active watches have straps made of flexible material, in the Classic models they are put on leather, and in the Elegant version – on metal Milanese bracelets.
In the reviewed model, the leather strap is beige in color and is made with attention to detail. I do not know how it will be with its solidity, but for two weeks of wearing the watch, the skin has not deformed or discolored – it generally looks like out of the box.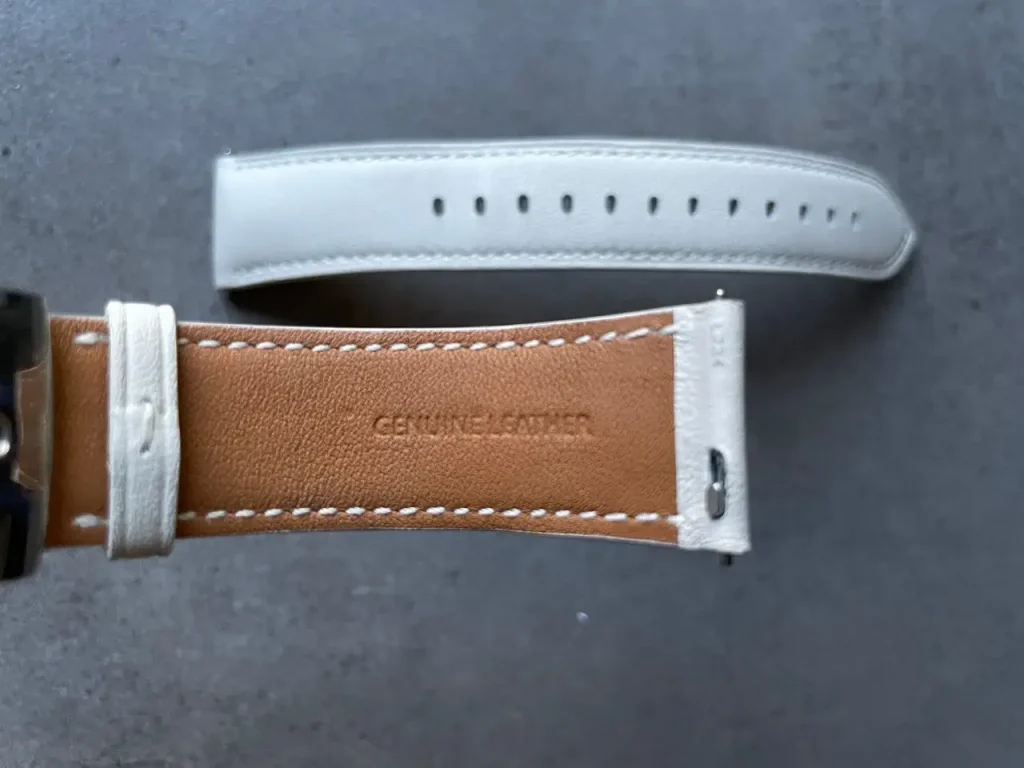 The strap has a traditional buckle closure, two belt loops and 12 holes. It is attached to the envelope by means of telescopes with a quick pins system, which allows the strap to be changed easily, without the use of additional tools.
But this is not the only fastening system – Huawei also offers an Easy Fit fastening that can be released with a single touch, more precisely using the flat buttons on the inside of the case, by pressing which you can remove the strap. Suitable adapters and straps can be found on the Internet. Or just stick with the good old scopes.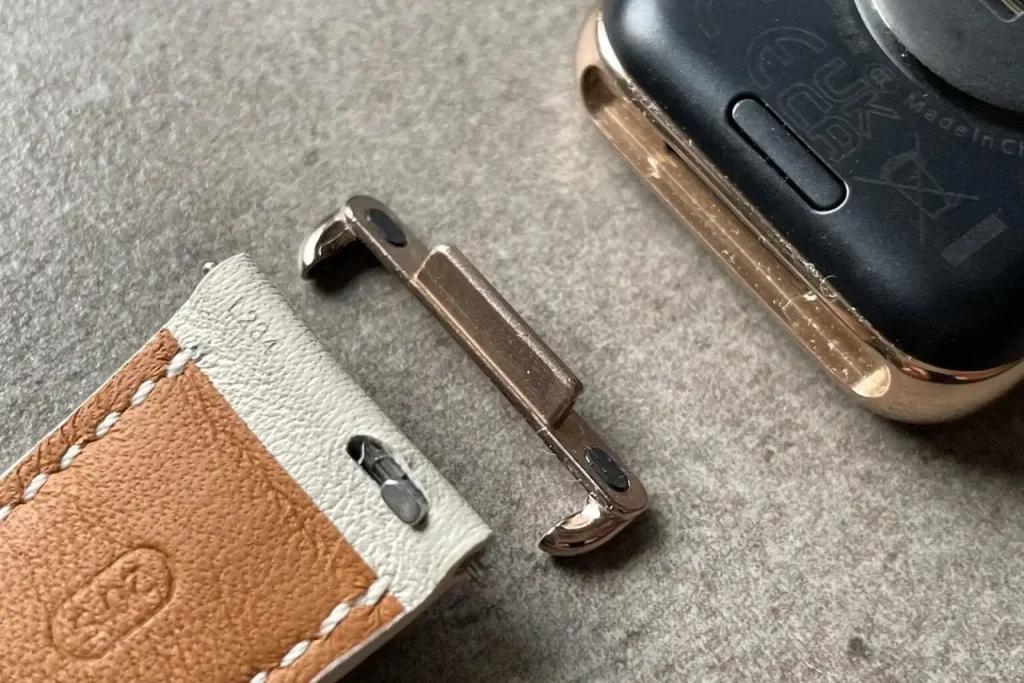 Watch operation and functions
Using the clock is simple and intuitive – especially if you've already dealt with wearable gadgets from Huawei. Just swipe down to open the quick settings menu, while swiping up shows recent notifications.
Use the button to launch the menu, which can be in the form of a grid or a list (it also allows you to return to the main screen), and by sliding your finger to the left or right, you move through individual panels – their selection and order can be changed in the settings.
On the left side is the HUAWEI Assistant panel with information about the weather or the music being played.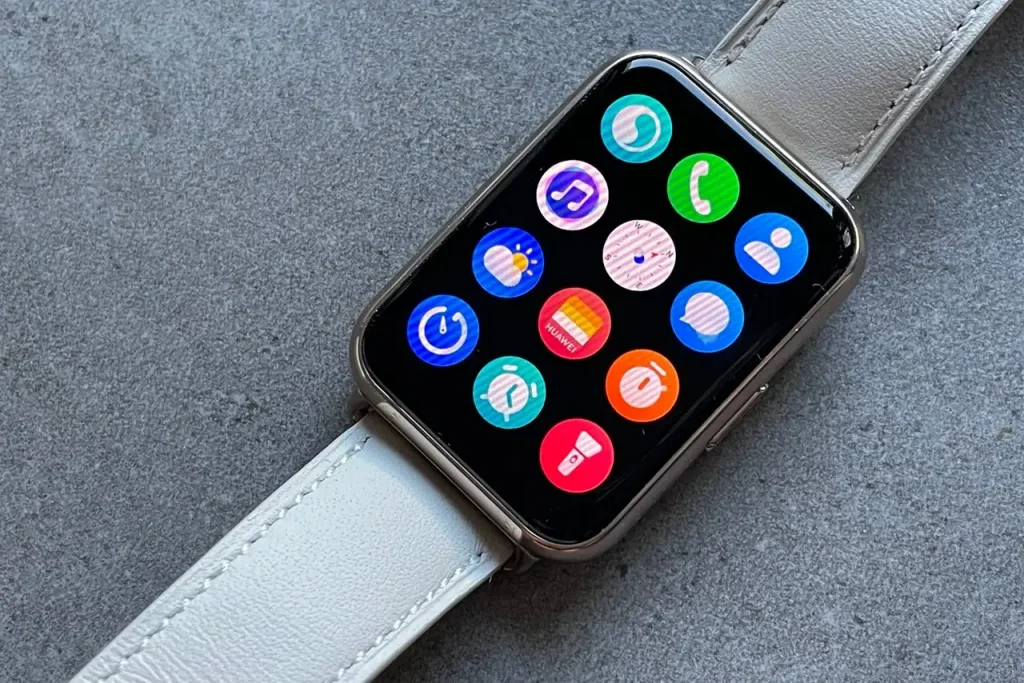 Huawei Watch Fit 2 offers practically everything you can expect from a smartwatch. First of all, it monitors the user's activity and health parameters by recording the heart rate and blood oxygenation, it also counts steps, steps and distance traveled.
It offers a number of useful tools: compass, weather application, stopwatch, timer, alarm, flashlight or find the phone function. It can be a handy personal trainer and can affect the quality of life – if you join the "Healthy Life" program (here you will be reminded to drink water or sit still for too long). Let's not forget any sports functions.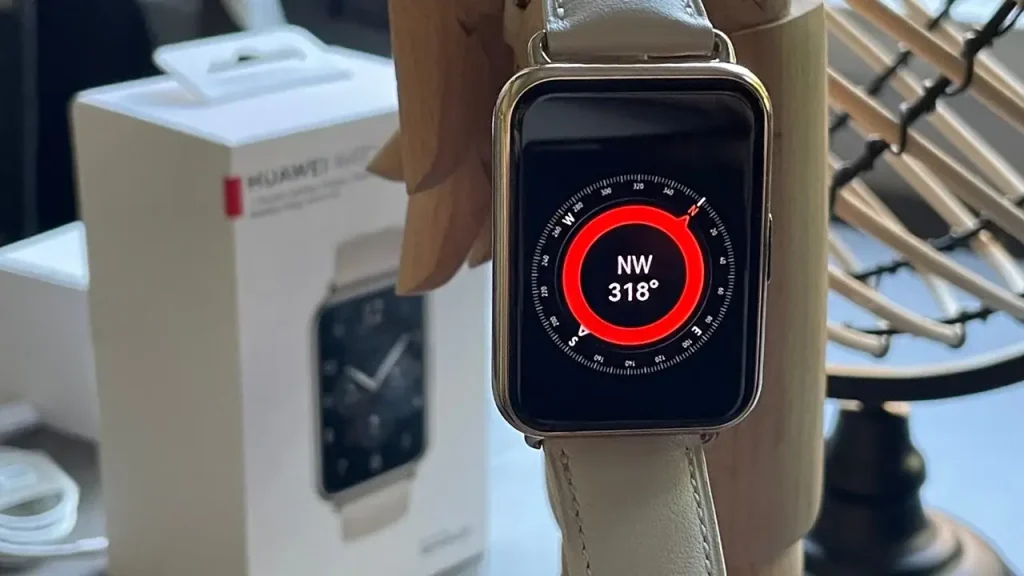 The watch can also transmit information with a smartphone via NFC thanks to the proprietary OneHop function. Unfortunately, it will work on smartphones with the EMUI 11 system overlay or newer, i.e. de facto only with Huawei smartphones.
Receiving and making calls
If you want to make a call, but you do not have a smartphone at hand (but it is within Bluetooth range), Watch Fit 2 can effectively replace it. It is rather a temporary solution, because the person talking to the watch will look quite strange to outsiders, and it is difficult to ensure the privacy of such a conversation if you do not use headphones. Nevertheless, it is a solution when you need to keep your hands free. It works especially well in the privacy of the home or office – then interlocutors heard me loud and clear, but less so when driving a car or in noisier surroundings.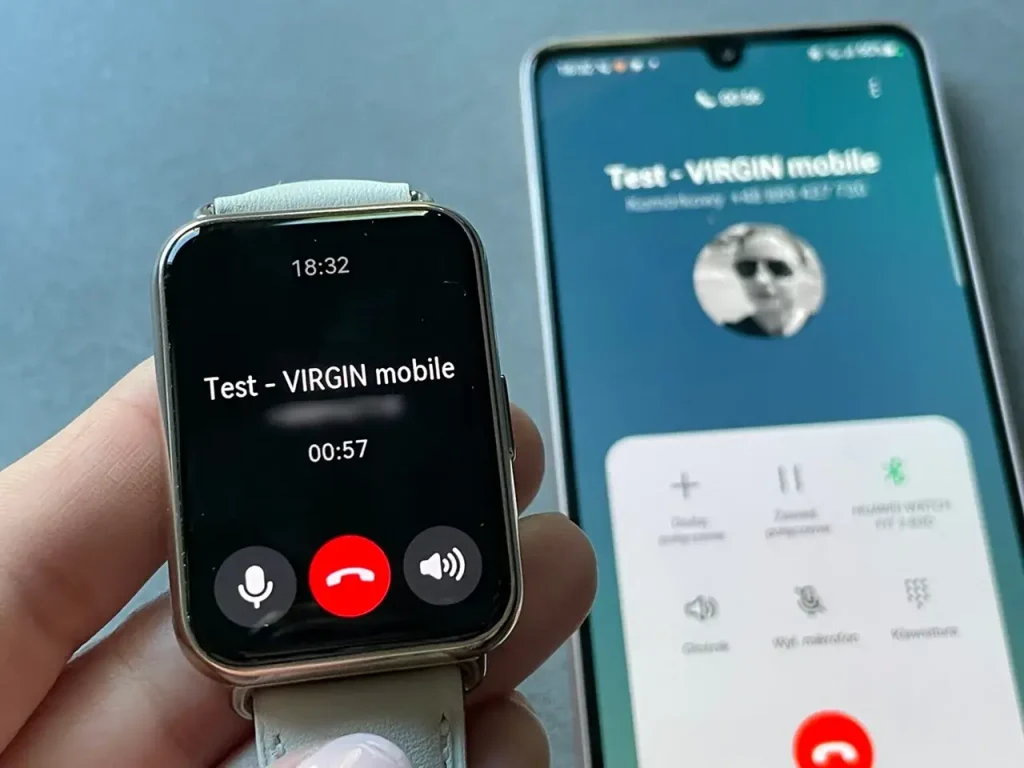 From the watch level, you can also reject calls and receive notifications from selected applications – unfortunately, there is still no way to respond in any way, you can only use the previously set quick responses.
Always on Display
An additional advantage here is the Always on Display function – so you do not have to wake up the watch or wave your hand every time the user wants to know what time it is. The displayed time can be in the form of an analog clock or digitally – the AoD panel is visually and color-matched to the selected dial.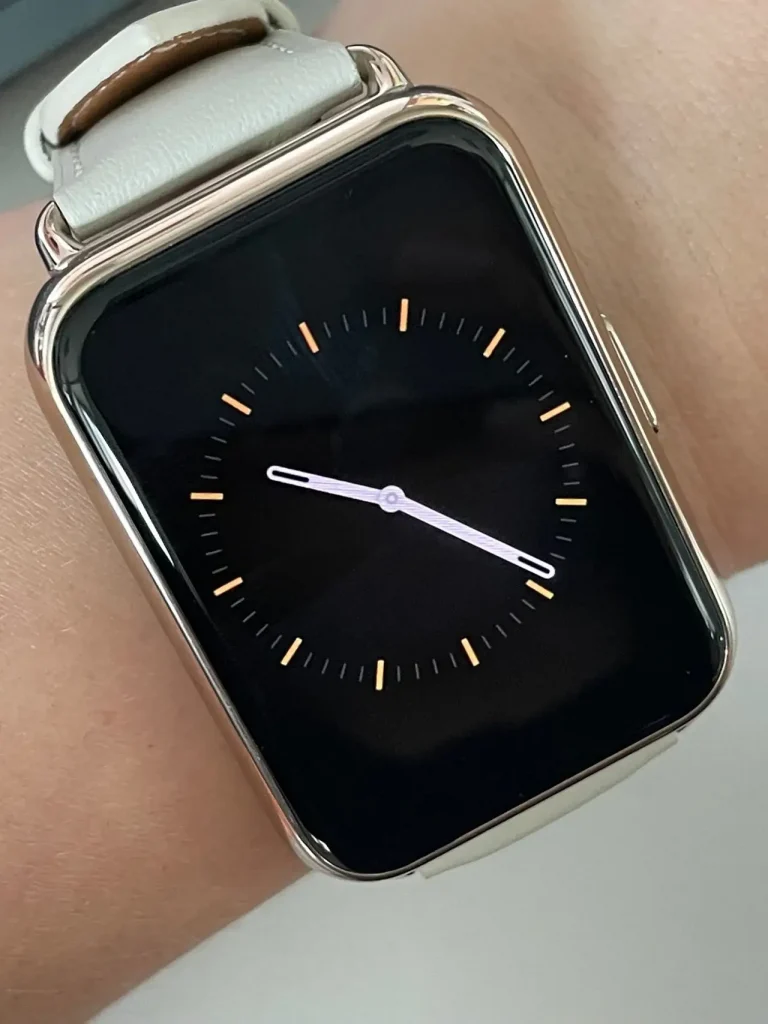 Music
The watch's memory is supposed to be enough for 5,000 songs – and tactically the software says that there is as much as 23,540 MB of space for music files. This is probably the largest memory for music among all the watches that have passed my hands so far – usually the user had to settle for 2-4 GB. It is enough to pair the headphones to enjoy the music – the built-in loudspeaker is unlikely to be suitable for this, although of course it is possible to use it to play songs.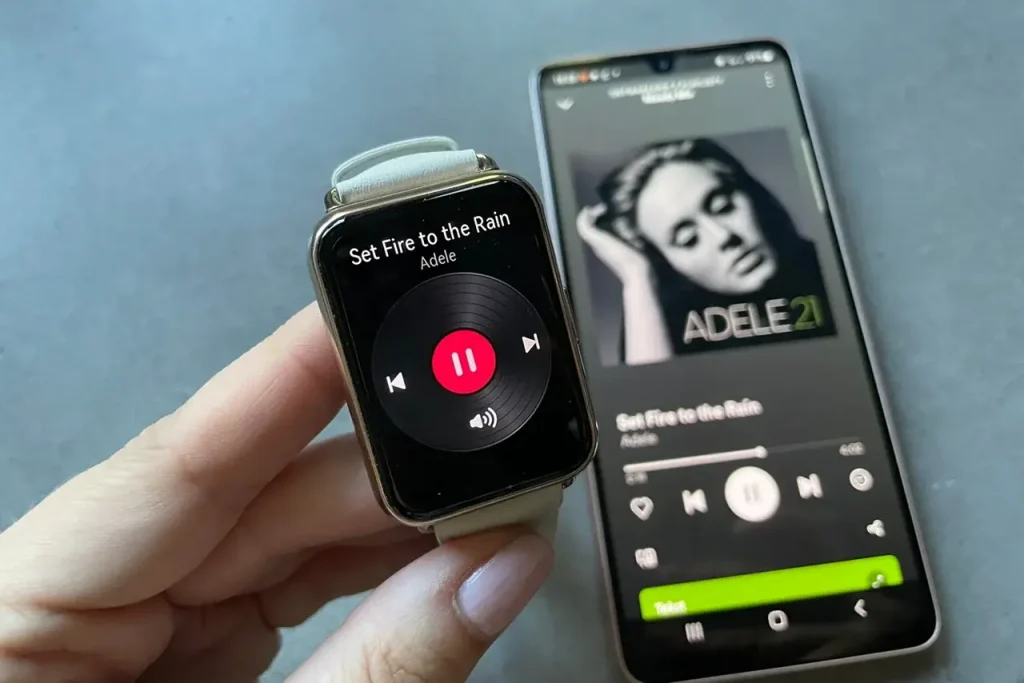 Huawei Watch Fit 2 also works with music, the source of which is a smartphone, i.e. a music player or Spotify applications. From the watch, you can control the volume, change songs, stop them, etc.
Health
As befits a wise accessory, the band monitors many health parameters. It can measure heart rate, blood oxygenation and stress 24 hours a day, and alert the user when it finds abnormal – too low or too high – values. If you don't mind sleeping with the watch, Huawei Watch Fit 2 can also monitor your sleep quality by detecting waking up and deep and light sleep. I verified the correctness of these measurements using an arm blood pressure monitor and a pulse oximeter – the results were similar to those displayed by Watch Fit 2.
Of course, the manufacturer reserves that the smartwatch is not a medical device, and all measurements are illustrative and not intended for diagnostic, preventive or therapeutic use.
Sport
Watch Fit 2 is used to monitor workouts (distance, time, number of steps, number of calories burned or parameters of our body), for which it uses the GPS module (with the function of import and export, which allows you to share the most interesting routes with your friends) and numerous sensors. You cannot skip the numerous exercise modes – the Huawei gadget supports 97 training modes. GPS works properly while recording the route, what's more, it is also possible to set the return route.
The only thing that is surprising – when providing general information about training or speed, the watch does not show a comma. In this way, on foot in almost 38 minutes, I was able to cover not 3.25 km, but 325 km. However, my average speed of 516 km / h sounds better 🙂 However, this is a small error, and after synchronizing the course of exercises with the smartphone, the actual distances are shown.
Huawei Health application
The Huawei Health application installed on the phone is necessary for the proper operation of the watch. It can be downloaded from the QR code displayed during the setup of the watch for both Android and iOS. This application allows you to configure a number of watch functions, it is also an aggregate of health and training data – here we can see health and exercise statistics on a daily, weekly, monthly or annual basis, or review the routes and parameters of completed training sessions.
With the help of the application, you can configure notifications, select contacts to whom we often call, set quick responses, and upload music to the watch's memory. Huawei Health also gives you access to several applications for Watch Fit 2 through the App Gallery.
It is also possible to configure a payment card here, but attempts to download the necessary application – Wallet – resulted in the following answer: Current wearable version doesn't support this device . I would like to add that I was using the latest version at the moment, HarmonyOS 2.1.0.128, and the version of the Huawei Health application is 12.1.4.330.
Read Also: Huawei Watch GT Runner Review: Bright and sporty running watch
Charging and working times
Huawei uses a dedicated charger (the set includes a suitable USB-A terminated cable) and supports 5V / 1A charging.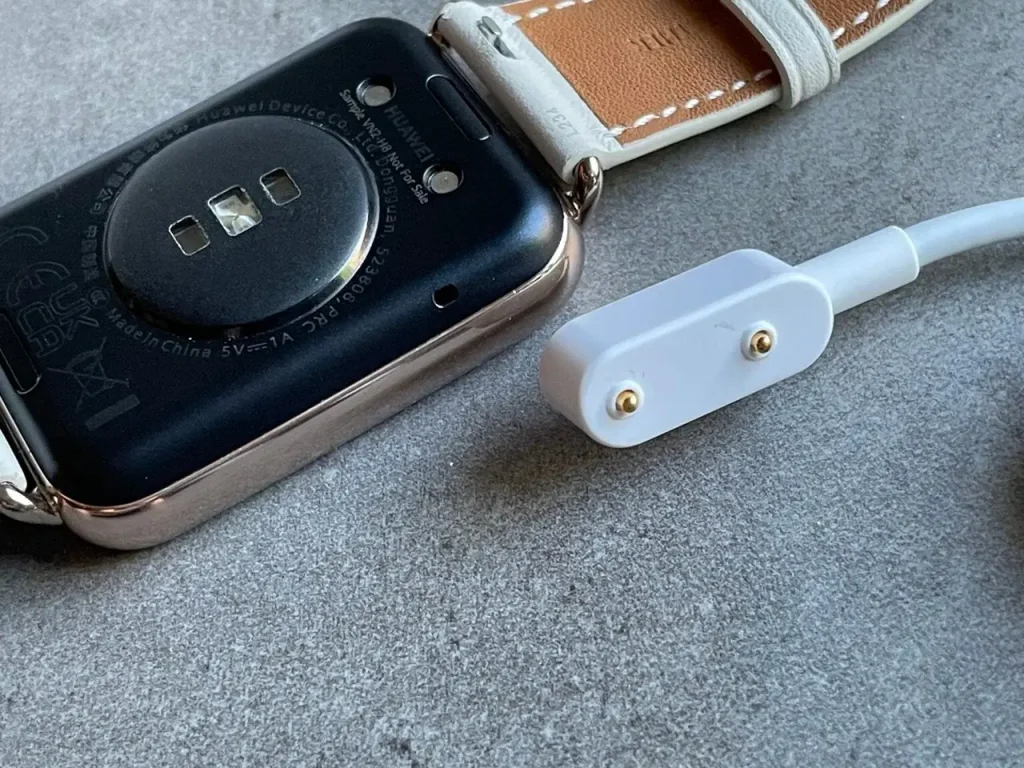 The manufacturer states that Watch Fit 2 should run on the battery for about 7-10 days. More specifically, on the product page, it provides the following data on working times, based on Huawei's internal laboratory tests:
The battery lasts for 10 days of work with typical use: 30 minutes of Bluetooth voice calls a week, 30 minutes of music per week, heart rate monitoring and sleep analysis enabled, 30 minutes of training a week, notifications enabled (50 SMS messages, 6 calls and 3 alarms per day), 200 screen turns on per day.

The battery lasts for 10 days of work with intensive use: 30 minutes of Bluetooth voice calls a week, 30 minutes of music per week, heart rate monitoring and sleep analysis enabled, 60 minutes of training per week, notifications enabled (50 SMS messages, 6 calls and 3 alarms per day), 500 screen turns on per day.
How does it work in practice? With low use – without activating power-hungry functions, training or listening to music – wearing a wristband as a watch, a health monitor and a tool for receiving notifications, I got an 8-day working time with a margin of over a dozen percent.
However, when I activated the AoD, the smartwatch used up a dozen or so percent a day, so the working time was shortened to 3-4 days. In turn, launching GPS during training consumes about 8-10% of the battery per hour. So, in general, the times declared by the manufacturer are achievable, but the more real will be 2-3 days shorter, although of course it all depends on how intensively you intend to use the watch.
About Post Author
Huawei Watch Fit 2 review
Set -

7/10

production quality -

8/10

construction -

8/10

health-related functions -

9/10

sports-related functions -

8/10

functions related to cooperation with a smartphone -

7/10

screen -

9/10

working times -

8/10
Summary
Huawei Watch Fit 2 is equipment for people who need a larger screen than in typical bands, but do not want to wear a full-size smartwatch on their wrist.