Motorola has started its adventure with flagship smartphones of the latest generation by storm. After all, the Edge X30 model is the first smartphone with Snapdragon 8 Gen 1 on board. Nevertheless, a slightly different version reached Europe, also under a different name. We still find strong components on board and we can still count on the key advantages of this company's smartphones. In this way, let's check them in practice, so here is the Motorola Edge 30 Pro review, to which I cordially invite you.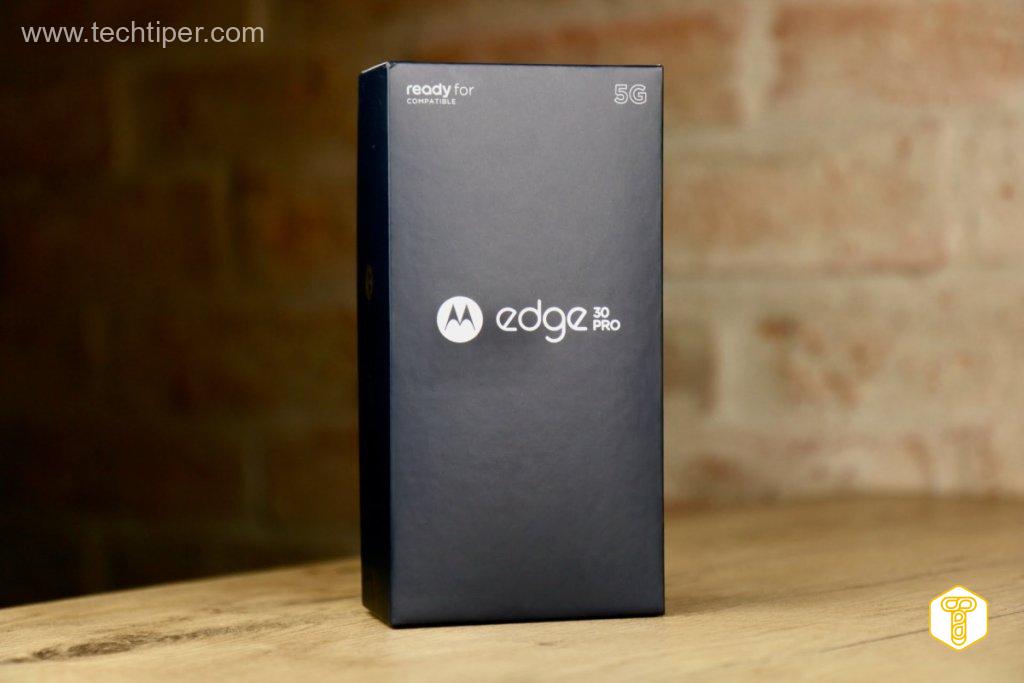 Motorola Edge 30 Pro review in three summary sentences
Motorola Edge 30 Pro is a flagship of flesh and blood outside of cameras. This is actually the key problem of this smartphone, because apart from that, everything it offers is top shelf. Looking at the price, we will definitely appreciate the performance, the software with its extras and a nice display.
[Review] realme GT 2 Pro – it is definitely a flesh and blood flagship
Construction, technical specifications and price of the Motorola Edge 30 Pro
The classic Motorola box, where the top theoretically does not reach the end, has changed a bit inside. The company no longer sells devices with the case on immediately. It was given a special place in a separate space.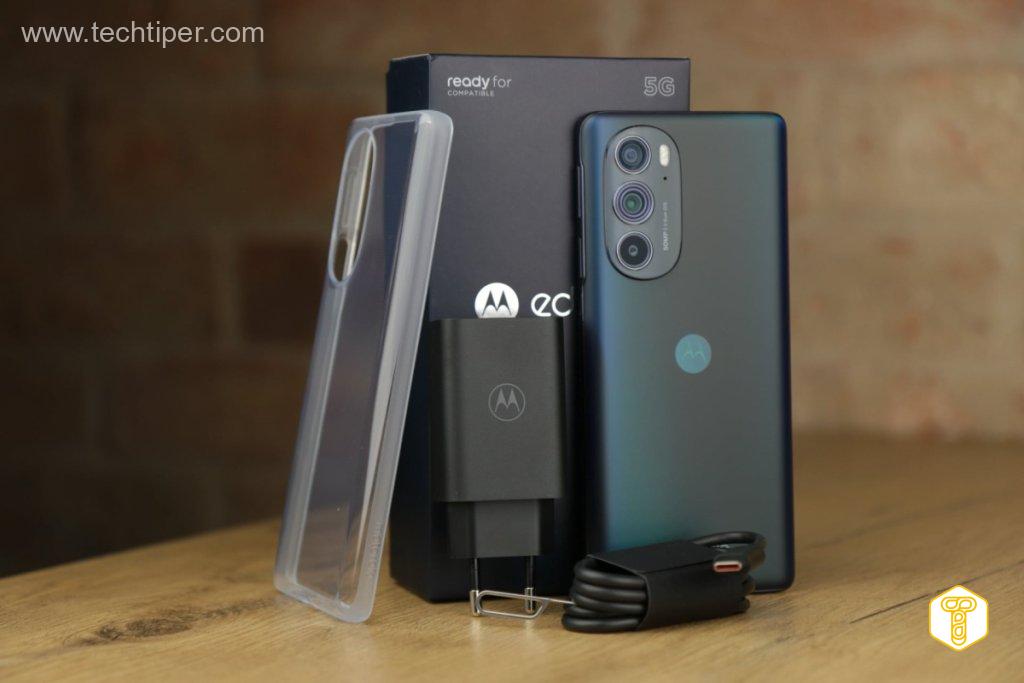 Nevertheless, the equipment itself theoretically meets today's standards. This means that we will also find a modular charger, but in the most modern option possible. Next to the 66 W power supply, there is a USB-C - USB-C cable. This way we say goodbye to the USB-A connector.
The included case is a classic of the genre, i.e. rubber, the edges of which have been matted. This makes them rough and improves the grip. They have the necessary cutouts for keys and connectors, as well as on the back for cameras.
The lenses are flush with the protruding material. Also, the case protrudes along each edge to a minimum extent, which is to protect the front. The only thing I can complain about is too little stiffness, which manifests itself in not very good adhesion to the longer sides.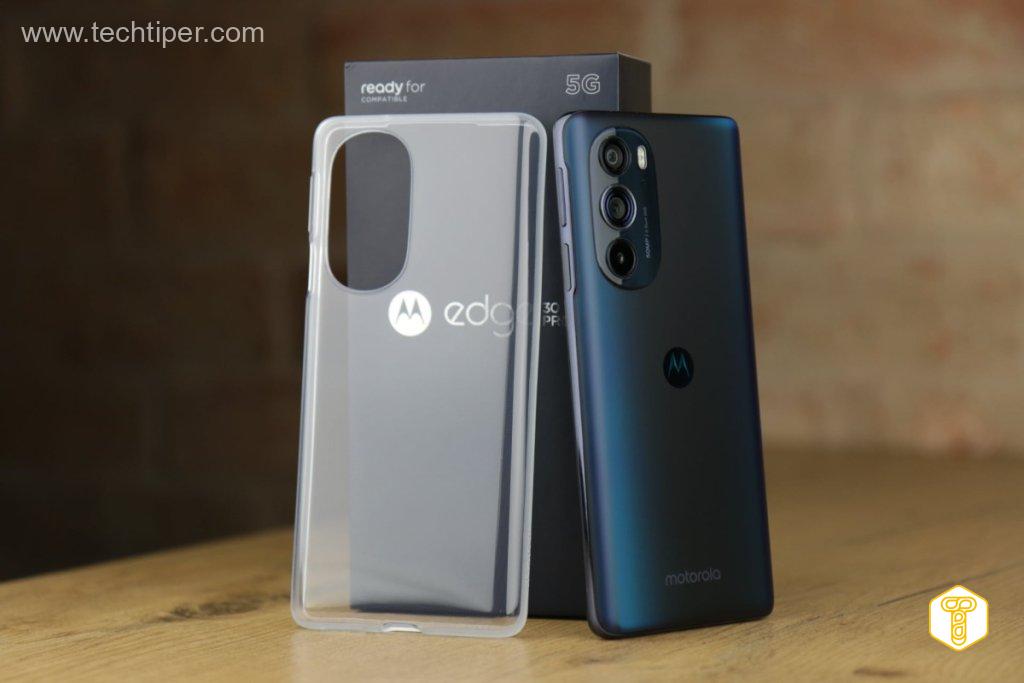 The price of the Edge 30 Pro is right for the flagship
Recently, the prices of smartphones have clearly gone up, which is due to many factors. Naturally, the flagships are no exception in this matter, although this particular segment is one of the most stable.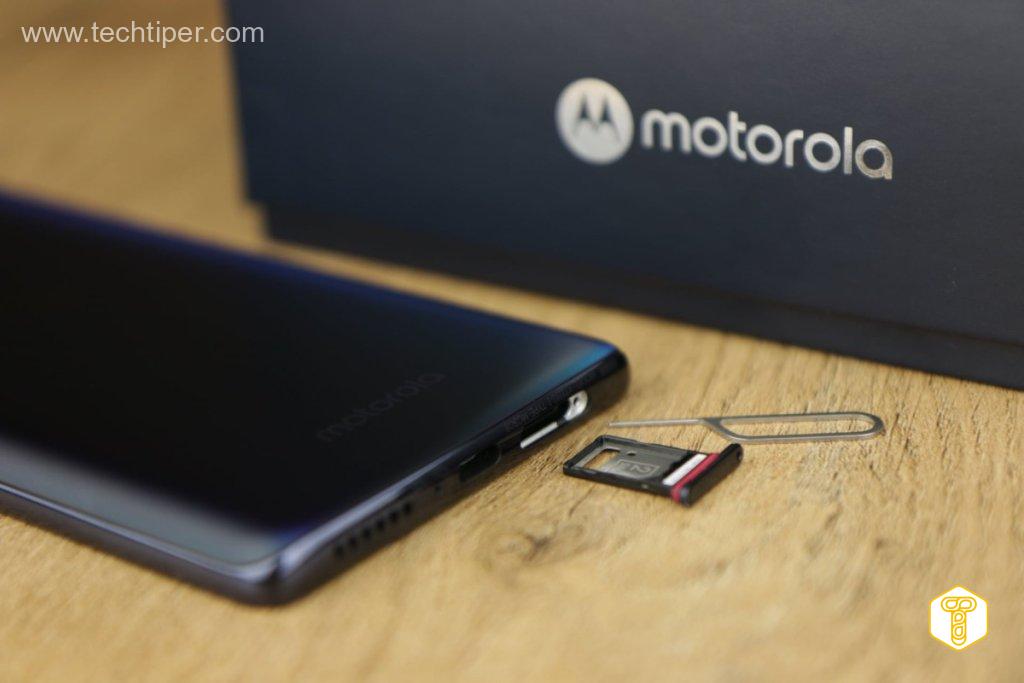 In India, there is one of the versions of Edge 30 Pro (8/128 GB), which was priced at ₹49,999. Looking at today's competition of the same rank, Motorola's proposition is closer to the bottom shelf, which includes, among others, realme GT 2 Pro .
Technical specifications Motorola Edge 30 Pro
6.7 inch OLED FullHD + display

resolution: 2400 × 1080 (20: 9, 393 ppi)
87.4% filling of the front
HDR10 +
10-bit color (1.07 billion colors)
image refresh rate: 144 Hz

Snapdragon 8 Gen 1 chip

lithography: 4 nm
CPU:

1x Cortex X2 (3 GHz)
3x Cortex A710 (2.5 GHz)
4x Cortex A510 (1.8 GHz)

GPU: Adreno 730

8 or 12 GB LPDDR5 RAM
128, 256 or 512 GB of built-in user memory

UFS 3.1
no support for MicroSD cards

cameras:

front: 60 MPx (f / 2.2)
back:

50 MPx (f / 1.8, PDAF, OIS)
50 MPx (f / 2.2, wide)
2 MPx (f / 2.4, depth sensor)

battery with a capacity of 4800 mAh

68 W wired charging
15 W wireless charging (5 W reverse)

communication:

Wi-Fi 6e (802.11ax)
Bluetooth 5.2
5G
NFC

fingerprint reader on the edge, Ready For, splash-proof (IP52 certified), USB-C (3.1 with DisplayPort 1.4), stereo speakers, stylus support
Android 12
dimensions: 163.1 x 76 x 8.8 mm
weight: 196 g
execution:

front: Corning Gorilla Glass 3
body: plastic
back: Corning Gorilla Glass 5

color versions: Cosmos Blue, Stardust White
The Motorola Edge X30 mentioned at the beginning offers a larger battery, but in return is devoid of wireless charging. There is also a variation with the selfie camera hidden under the screen. Meanwhile, compared to its predecessor, the Motorola Edge 20 Pro , the title character clearly focuses on performance, abandoning the telephoto lens-periscope.
In general, only the lack of a telephoto lens can really be considered a key lack. From the details, Motorola can also think about waterproofing and embedding the fingerprint reader in the screen. Meanwhile, let's check how the Motorola Edge 30 Pro fares in terms of performance.
Construction and build quality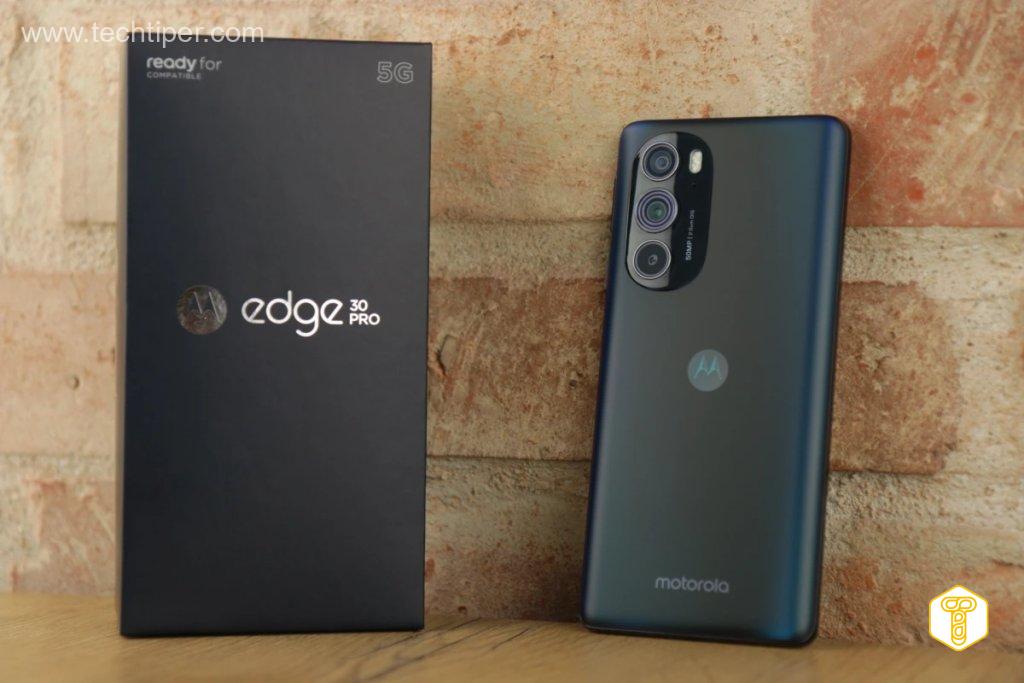 Looking at the Edge 30 Pro, you can immediately see that it is Motorola and I am not referring to the logo now. It is simplicity, without any intrusiveness or controversy, and this is what distinguishes this manufacturer.
As befits a flagship, the materials used are fine. I was a bit surprised by the presence of plastic edges, which are quite slippery, but in the long run it does not bother me. Folding is at a sufficiently high level. The finish can also be liked. 
It is true that the matte backs have minimal dirt and fingerprints, but there is no problem with their quick cleaning. The lighting effect is definitely interesting, where theoretically black surfaces turn blue, but in a delicate way.
The front is distinguished by a rectangular shape. Compared to the competition, the corners have not been rounded too much, which in combination with even and relatively thin frames looks just good.
The selfie camera hidden in an equally small cutout in the screen is definitely great. I was very positively surprised by the quality of the matrix used, especially in the tonal range - also at night. 
The level of detail is high and I can only fault the color reproduction, because the colors lack a bit of life. A loudspeaker appears above the camera, which together with the lower one is a stereo set and, in fact, that's all we can expect on this surface.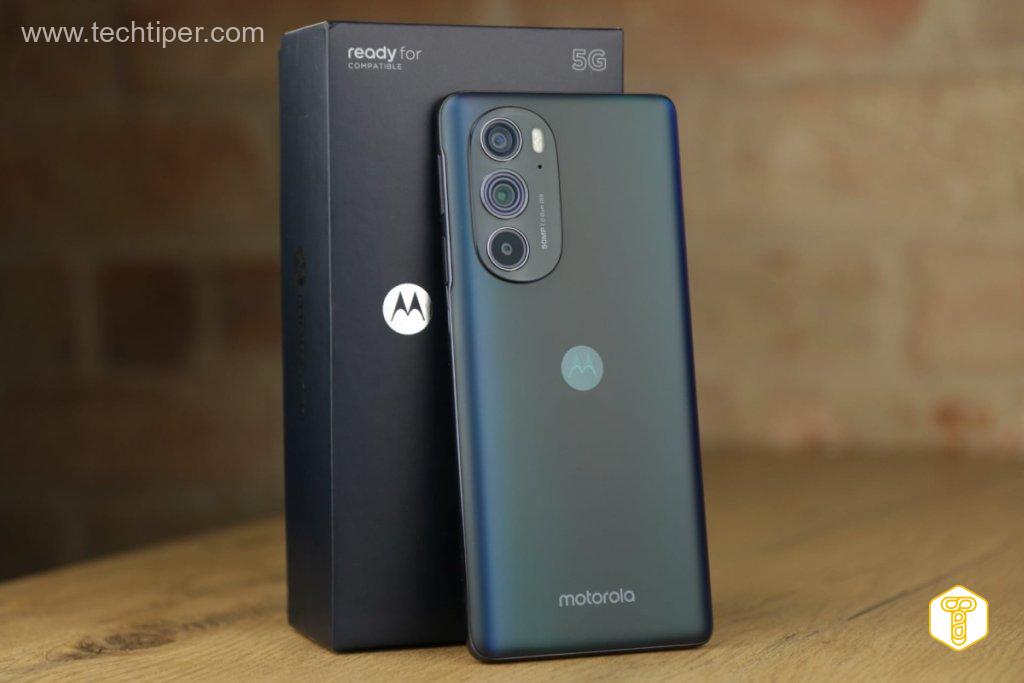 The back is primarily the aforementioned painting, but also an unusual island with cameras. Motorola hasn't avoided the protruding lenses, but the island moves smoothly from one level to another, which looks good and is ergonomic . The rounded sides are also clearly visible, making it easier to grip.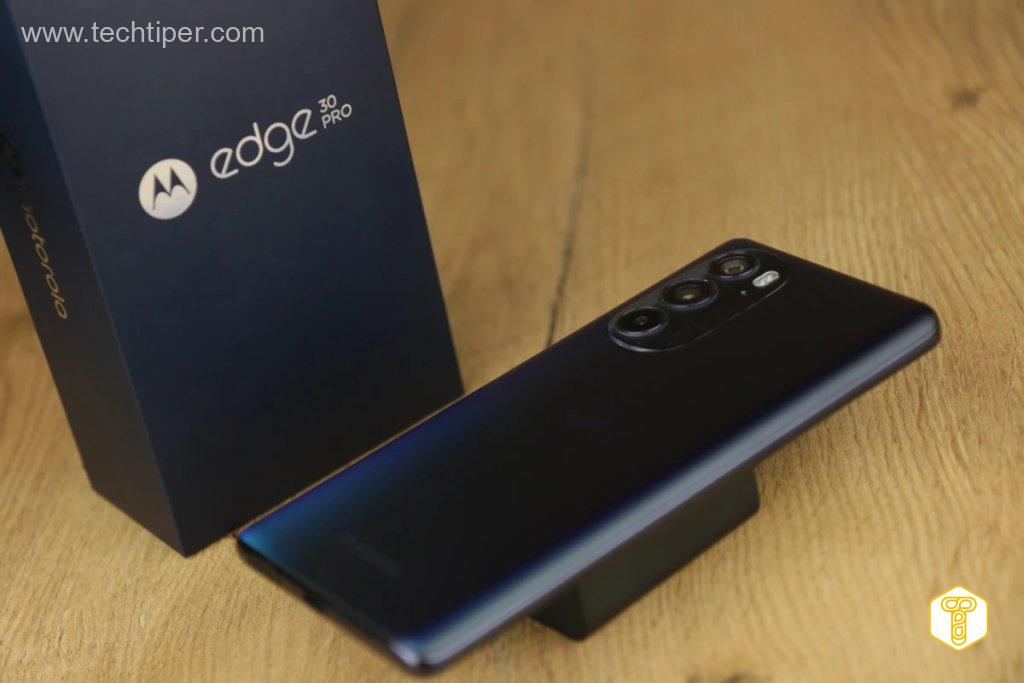 The edges of the Edge 30 Pro are unusual, that's for sure, but is it comfortable?
Plastic edges do not give coolness and the same grip stability as aluminum counterparts, but you cannot complain too much about the comfort of use. Motorola Edge 30 Pro fits well in the hand , but you definitely need to get used to the edges on which we find:
Top – additional microphone
Bottom – loudspeaker, main microphone, USB-C connector, tray for SIM cards
Left side – empty
Right side – physical keys with combined fingerprint reader and lock button.
As you can see in the photos, the keys are placed as high as possible, which initially seems very unusual. After all, we're used to half-height buttons, so it takes a few moments of getting used to.
Only then it turns out that it is definitely a more convenient solution and more natural for the thumb , which immediately lands on a successful fingerprint reader. Meanwhile, the stereo speakers are correct.
They are above average in practically every matter, but they are still a bit short of the best. This applies to loudness, the overall stereo impression and the individual bands. The shortcomings can only be related to the bass, but also looking at its predecessors, Motorola has clearly improved.
Display and image quality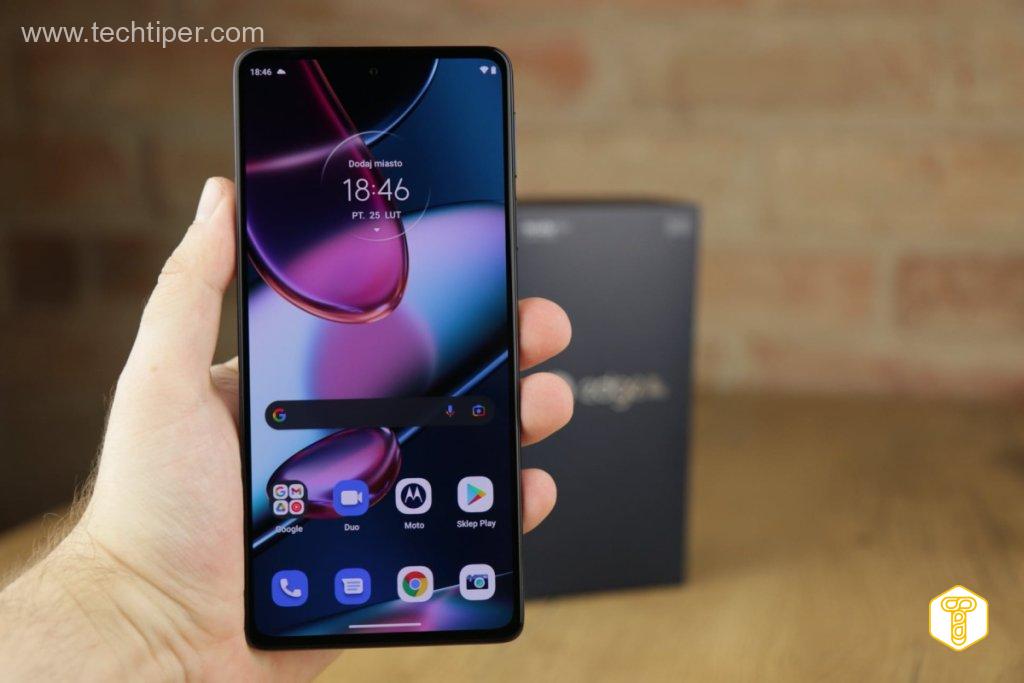 Although Motorola has not embedded the fingerprint reader in the screen, it does not mean that we are dealing with an LCD panel. It is an OLED screen with very good parameters.
We can count on high brightness (700 nits) and excellent color reproduction, including its mapping (deltaE <2). In fact, in terms of the presented image, I cannot say a bad word.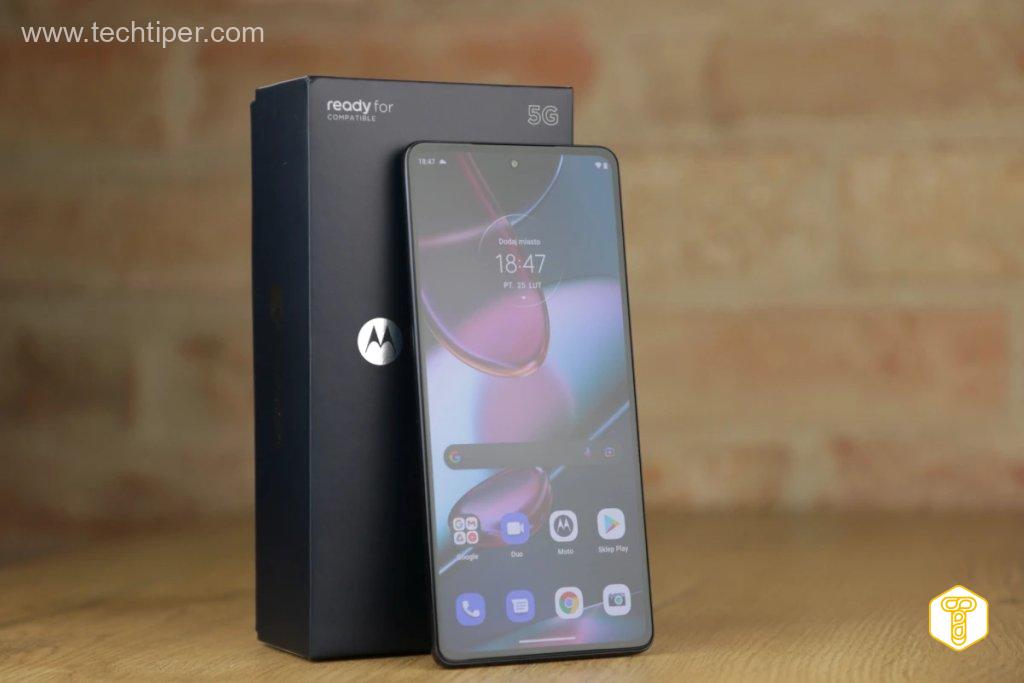 I noticed quite a specific behavior in the case of the image refresh rate. The smartphone offers as much as 144 Hz on paper, but this is not a fully adaptive parameter. Therefore, the software decides whether it should work in 48, 60, 90, 120 or just 144 Hz.
Naturally, we can force the highest value or 60 Hz, but we can also choose to auto-select. Then 120 Hz dominates, even when watching movies on YouTube. We can very rarely see a reading of 60 Hz. 
The lowest value (48 Hz) appears mainly under the Always-On Display. On the other hand, without forcing a higher frequency, the software stuck to it rigidly – also in 120 Hz games it was standard.
Battery – working and charging time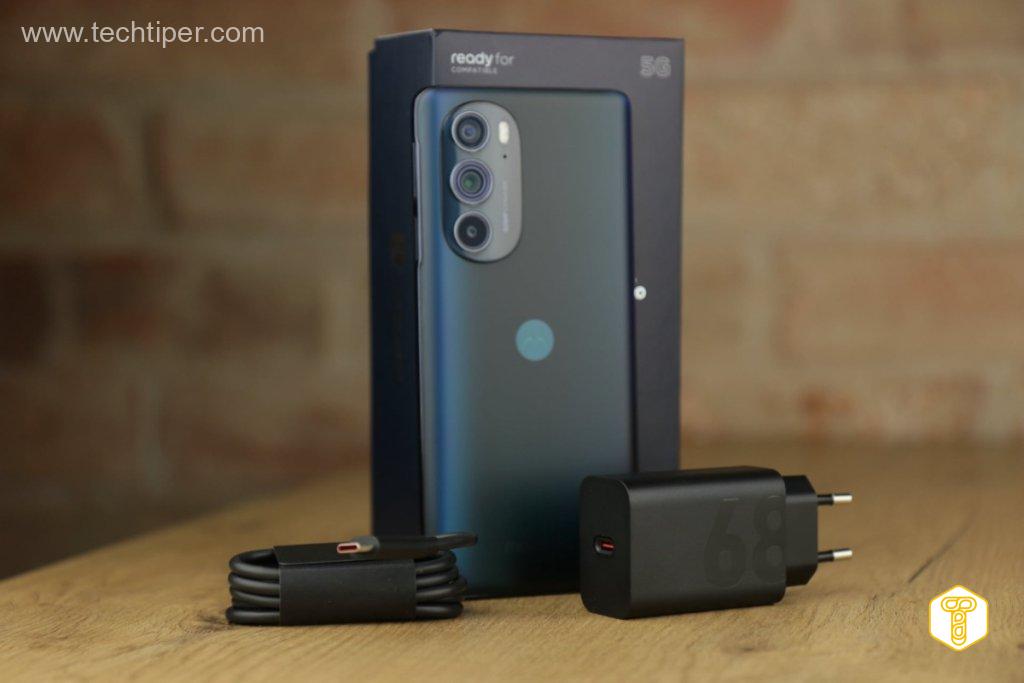 Motorola decided to reduce the battery size to accommodate the inductive charging coil. Therefore, the capacity of 4800 mAh is quite average in relation to the large display.
Considering the fact that the software likes to maintain a high refresh rate, you should not expect sensational results. Nevertheless, on the other hand, we are talking about an OLED screen and the latest computing chip made in low lithography, so the final results are satisfactory.
A working day without compromise is fully achievable. If we limit the speed of the screen refresh and the processes that are running, even two days are within reach. In general, we can count on the display to be turned on for:
7 hours of easy work (Chrome, social media, Google Sheets and Docs)
3.5 hours of operation at full capacity.
The smartphone does not heat up excessively during demanding tasks. Meanwhile, a full charge takes around 40 minutes , so it's pretty good in that regard. Wireless cell regeneration takes much longer (~ 3 hours), but we should also remember that we can use it for reverse charging.
Cameras – the quality of photos and videos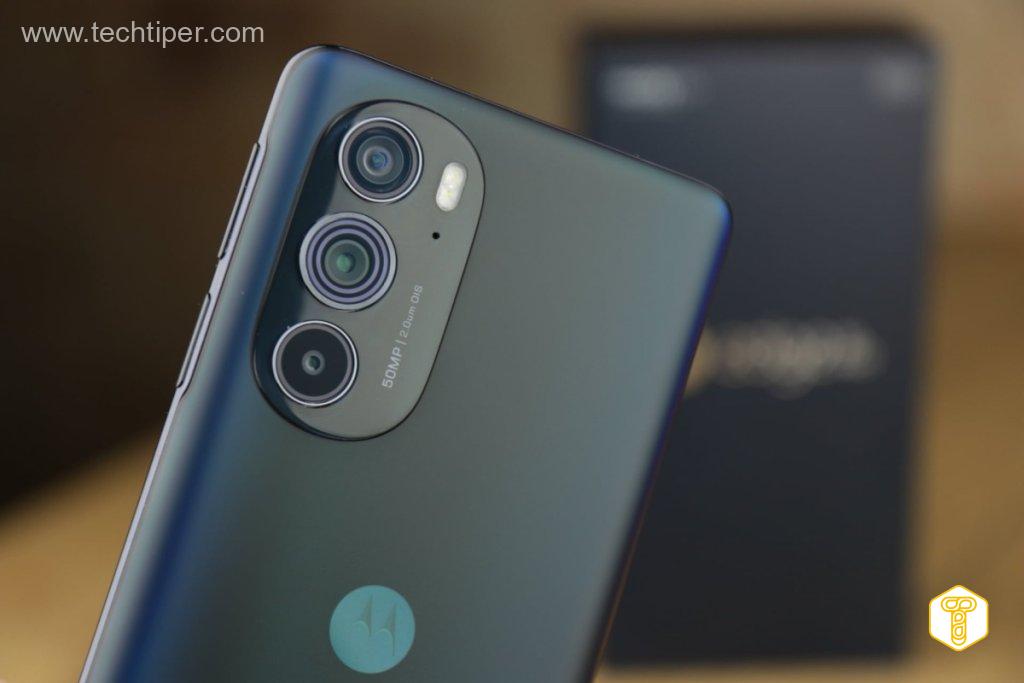 Motorola's software is simple and the camera app is the perfect example to understand what exactly is going on. The interface is painfully devoid of any additions. These are hidden only under the sliding panels.
We will also find intelligent suggestions, so theoretically there is everything that is relevant today in smartphones in terms of photography. In the end, there are also many modes that we can adapt to ourselves.
A key point for improvement is to reduce clumsiness. Additional animations or clearer settings will certainly make your work easier.
Motorola Edge 30 Pro allows you to record videos in the following resolutions:
FullHD at 30 and 60 fps.
4K at 30 fps.
8K at 30 fps.
slow-motion: 120, 240 or 960 fps.
A flagship that cannot record movies in 4K and 60 fps? Yes, selecting 4K first and then 60fps respectively. switches us to FullHD. This is a clear and unusual limitation, as is the availability of the wide-angle lens only in basic resolution and only at 30 fps. 
To make matters worse, the movies show clear differences related to the zoom, which, depending on the number of pixels and speed, works differently to the described times of zoom. You will see it perfectly in the movies.
Not everything is flagship in the camera set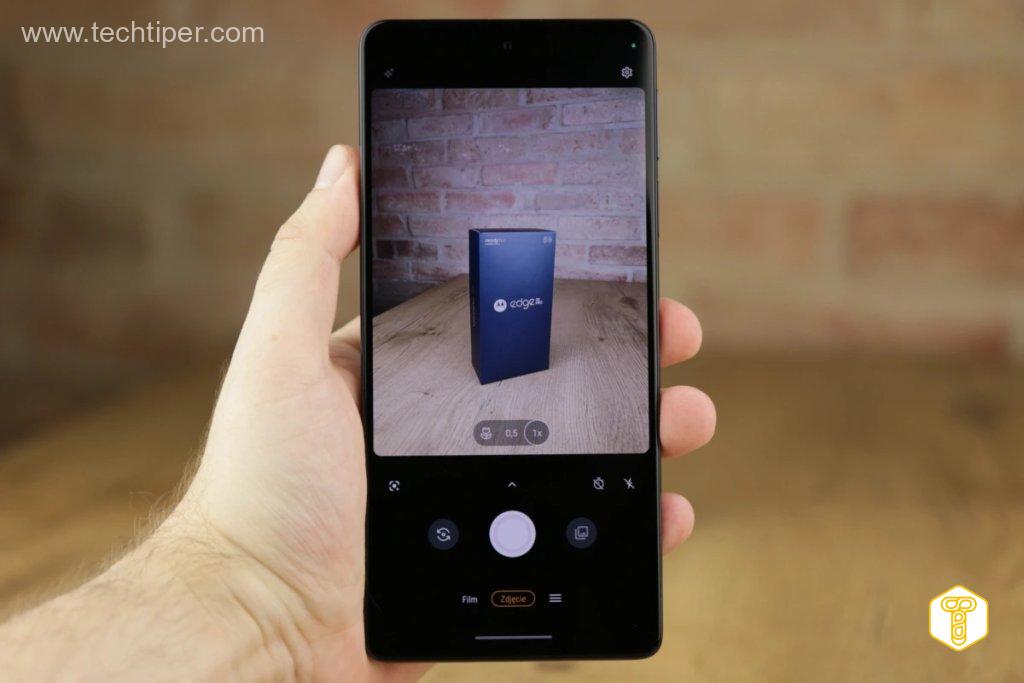 First of all, the Edge 30 Pro camera set includes a 2 MPx matrix, which at first glance seems redundant and unused. However, Motorola has got us used to handling macro shots, and this is also the case here.
Only … such shots are taken by a wide-angle lens and in practice they actually look ok, because we also have the option of setting the focus point. Meanwhile, the mentioned 2 MPx is really unnecessary.
Covering the sensor doesn't even affect the portrait mode, and the general lack of a telephoto lens is noticeable in this class, so the change from last year's periscope with the Edge 20 Pro is not to be missed.
Continuing the thread of the wide-angle lens, the one on paper seems really interesting. That's why it's all the more surprising that it's so limited in movies. However, about the recordings in a moment, let's first take pictures during the day and there is no tragedy here.
The shots look pretty good, the exposure is correct, and so are the colors, although the level of detail may be below expectations. It is true that you can see it only after zooming in on the picture taken, but still. In turn, at night the lens can see clearly less and can have noticeable problems with the focus settings.
Meanwhile, the main camera fares much better. We are still talking about the characteristics of the shots typical for Motorola, i.e. natural, without excessive saturation of colors. The level of detail is correct, but there are also some noise at times.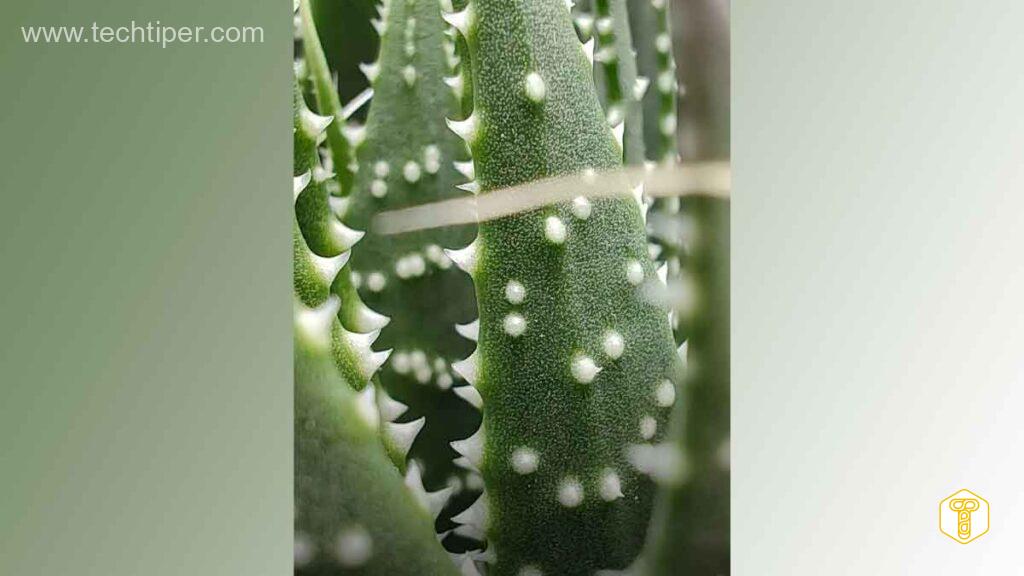 The tonal range is definitely good, which is also noticeable at night. Then you should only be careful with the automatically activated mode intended for worse lighting conditions. Overall, it works well and does not create unnatural pictures, but it also blurs the scenery completely.
Motorola clearly encourages recording movies at 30 fps, and if we want to use a wide-angle lens, we even limit ourselves to FullHD. It's a pity, but in the end the price promised compromises.
After all, we should not complain about the quality of the recorded material. During the day, we will be pleased with the recordings, also from a wide angle.
This one breaks down at night, where the imperfections already known from the photos reappear, but you can clearly see the problems with sharpness, which can go crazy at times. On the other hand, the speed of its setting and the optical image stabilization (in the main matrix) are fine.
Software and performance
Until now, Motorola has been associated with clean software, which in every respect was close to what Google invented. This has not changed, and even with Android 12 it can be seen even more when the new interface has been clearly refreshed by the Americans, while the competition keeps the old solutions.
Therefore, we are talking about ergonomic ideas that you can definitely like. Just like a set of interesting and unobtrusive accessories from Motorola. There is not much new here, so there are also classic solutions such as gestures, additional personalization options or a mode for players. There was also support for Ready For, i.e. the proprietary desktop mode.
The flagship of flesh and blood makes itself felt in terms of performance. The strongest components allow the assumption that the Motorola Edge 30 Pro will offer excess computing power for many years to come. Everything works lightning fast and nothing surprised me in this regard.
Motorola Edge 30 Pro review – summary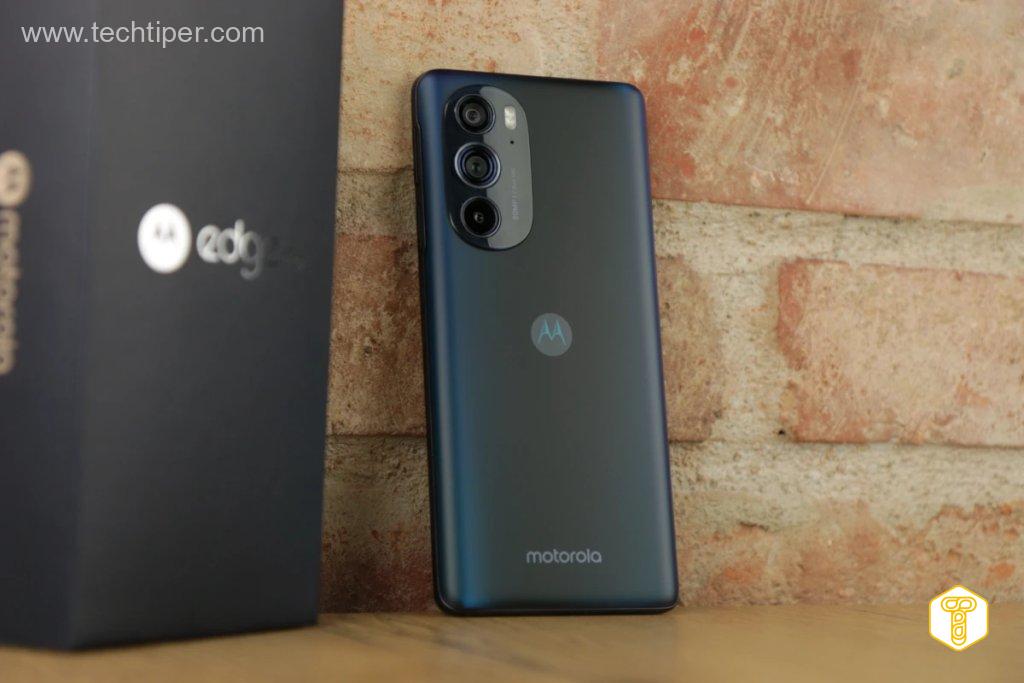 Motorola is bolder and bolder in the market of more and more powerful smartphones. The title model certainly showed that these are not pointless attempts.
After all, Edge 30 Pro offers not only strong components, but also unique software that we can operate on a nice display. The design, too, is unique in so far as today's smartphones can stand out. The company definitely has to improve the cameras, but remember that the price is a compromise in its own way.
Redmi Note 11 – the crown has not fallen, that is, the well-deserved king of profitability
Advantages and disadvantages
Benefits
A successful, very neutral display
Software prepared with an idea and great extras (see Ready For)
Complete specification for performance and connectivity
Disadvantages
The 2 MPx matrix is ​​not befitting in a flagship, and the other cameras do not bring you to your knees
Plastic edges
Frequently Asked Questions
Que: Does Motorola Edge 30 Pro has a 3.5mm Audio jack for wired headphone?
Ans: No it doesn't have 3.5mm Audio jack.
Que: How many Android updates will Motorola Edge 30 Pro will get?
Ans: Motorola has promised two years of Android updates and three years of security patch updates.
Que: What is the display refresh rate of the Motorola Edge 30 Pro?
Ans: It has a 144Hz refresh rate OLED panel.
Que: Does Motorola Edge 30 Pro has stereo audio system?
Ans: Yes it have.
Que: Does Motorola Edge 30 Pro has Widevine L1 support available?
Ans: Yes.
Que: Does Motorola Edge 30 Pro have a camera2api enabled?
Ans: Yes
Que: Does Motorola Edge 30 Pro has 5G Support?
Ans: Yes Motorola Edge 30 Pro works on 5G.
---
About Post Author