Logitech G735 Review
Summary
Logitech G735 are excellent headphones from the Aurora gaming collection. They will definitely not conquer the rankings of the best gaming headphones, but they sound great, look even better, offer a lot of possibilities – and will prove themselves not only when playing. At most, it can be discussed whether the price – about USD $230 – is adequate to what the reviewed set offers.
Benefits
great sound quality
comfort even when worn for a long time
effective (passive) noise reduction
customizable RGB backlight
a rich set of BLUE VO! CE effects and tools
great virtual surround sound
the ability to receive sound from two sources at once and quickly switch between LIGHTSPEED and AUX options
Disadvantages
no built-in microphone (the only option is to connect a cardioid microphone)
white earpieces can get dirty with makeup
the voice does not sound natural when using BLUE VO! CE technology
price
The world of gamers is dominated by men – and computers, laptops and all accessories are designed for them. Usually black, with sharp lines and angular shapes. Women's range of gaming products is most often underestimated by manufacturers – which was used by Logitech, offering a range of visually consistent devices that are intended to appeal to the fair sex.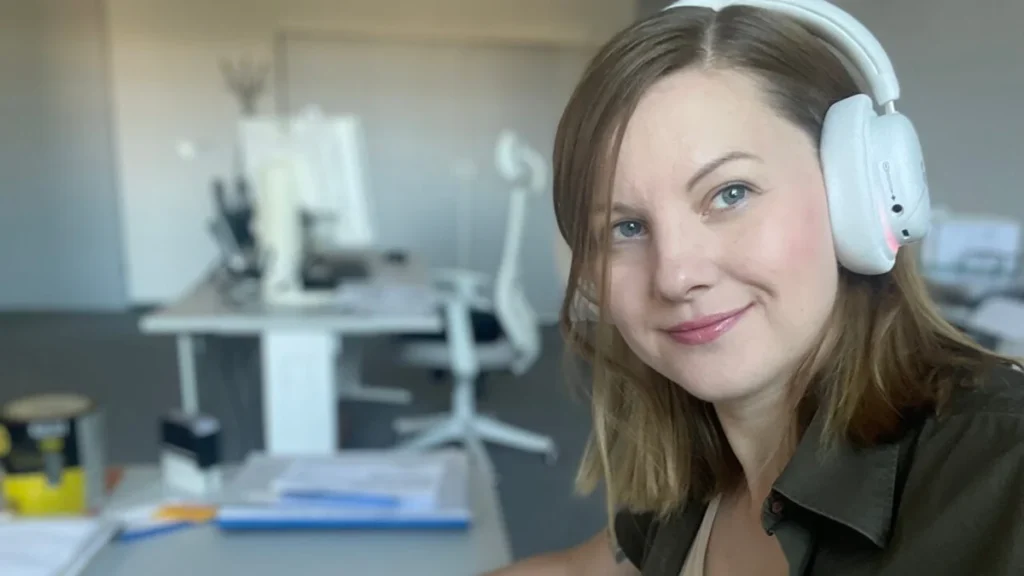 When manufacturers create devices designed for women, they usually assume that they must have pastel colors and a subtle look. This approach has not changed for years and this is also how the products from the Logitech Aurora collection look like. It consists of:
Fortunately, these devices not only look attractive (here, I admit, Logitech did a great job) and are of high quality, but are also full-fledged accessories for players. Otherwise, they would not have been able to defend their high price. An example would be the Logitech G735 headset, which looks great, allows for comfortable, wireless work and is generally flawless. However, is it worth spending on these headphones?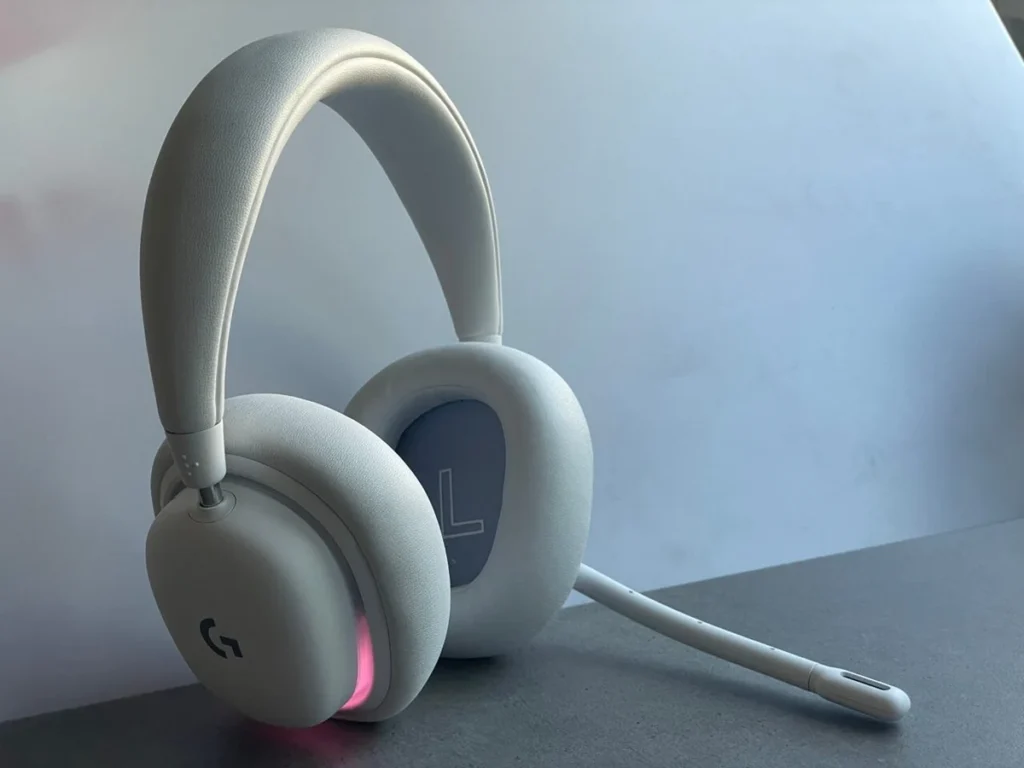 Logitech G735 – Specification and price
Frequency response: 20 Hz – 20 kHz
Impedance: 38 ohms (passive)
Mass: 260 g
Audio diaphragms: 40 mm
Reception: up to 20 meters via LIGHTSPEED USB receiver or Bluetooth
Other: Compatible with Dolby Atmos and Windows Sonic Spatial Sound surround sound technology, analog audio input via 3.5mm cable (not included), Blue VO! CE filters
Microphone: unidirectional, cardioid, frequency response 100 Hz – 10 kHz
Gaming accessories are not cheap, and among them the Aurora series is definitely a higher shelf. The Logitech G735 headphones are no exception. On the manufacturer's website you can buy them for USD $229.99. As for gaming headphones, this is not an exaggerated amount, although you can easily find cheaper – similar in terms of possibilities and quality – sets on the market.
What's in the set?
The headset is packed in a neat box with the following items: headphones, detachable microphone, USB-C charging cable, LIGHTSPEED receiver (USB-A 2.4 GHz), USB extension cable and documentation.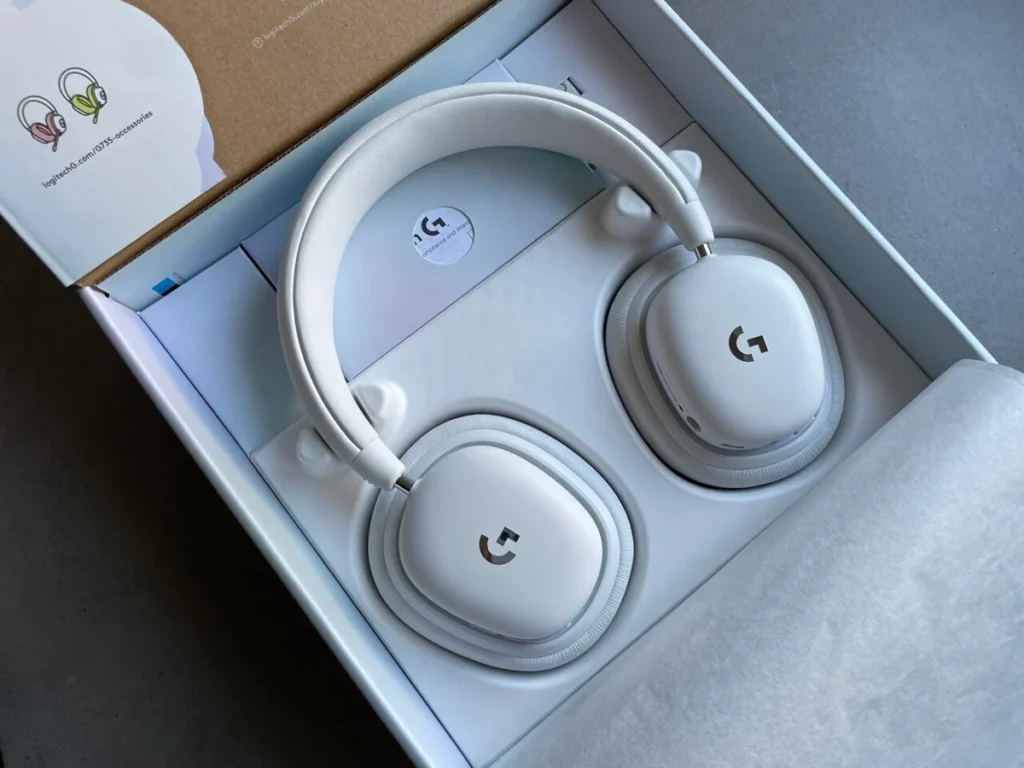 Construction and execution
The fact that the Logitech G735 are headphones designed for women can be seen in many of their aspects. This is evidenced by the design, colors and even the size of the device. The design will fit people with a smaller head size, and while wearing headphones, neither glasses nor earrings will be in the way. Soft materials on the entire surface and high-quality material with a matte finish also translate into a positive organoleptic impression and comfort when wearing.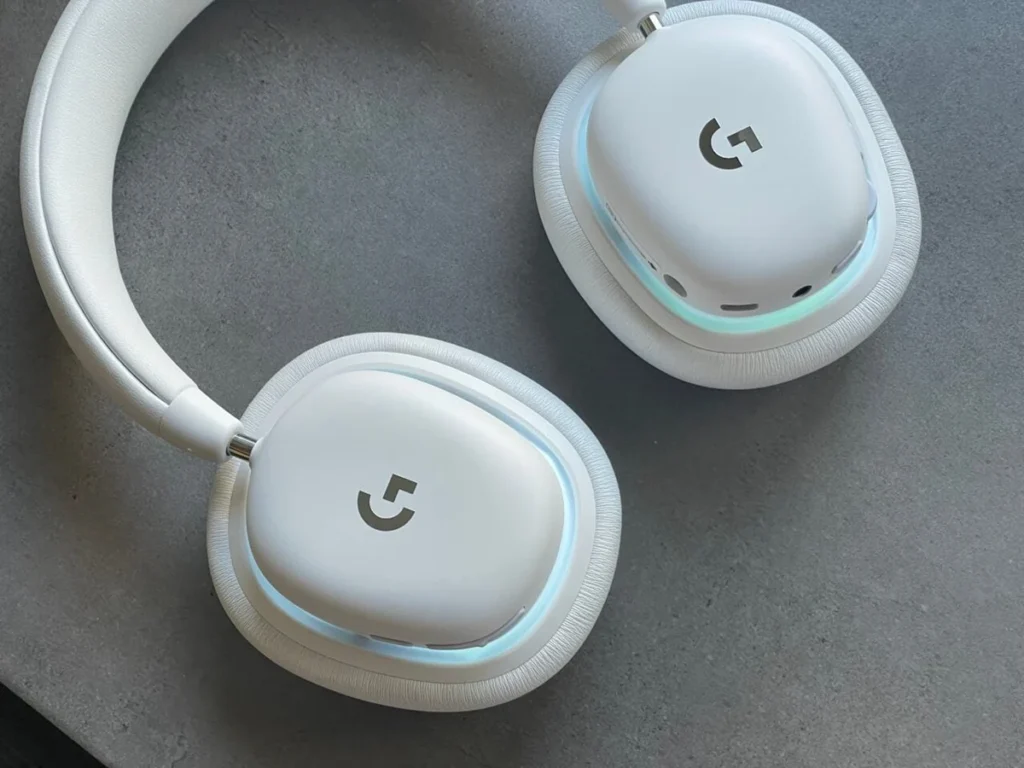 The metal headband of Logitech G735 is adjustable, and the swivel earpieces, covered with leatherette, are soft and large. They keep the white color of the series – which is both an advantage and a disadvantage. And it's basically only about women. It's about makeup. It is possible that the earpieces will be stained with powder, pink or other cosmetics, which will be used by the users of the Logitech G735 set. Here, the Sony company had a better idea, whose new Inzone H3 and Inzone H9 headphones are white on the outside, but the earcups and the interior of the headband are black.
Nevertheless, returning to the review … There are frames around the earcups with RGB zone illumination underneath them. Four Play Mood animations are preset, but the Logitech G Hub app allows you to customize the backlight to your preferences – and even sync it between devices in the series.
The right ear cup has only two buttons: connectivity, which is used to establish a wireless connection, and the so-called a mixer with a paddle in the center, which is used to balance the sound sources. On the other hand, the left ear cup is equipped with the following set of buttons: a switch that also turns the backlight off or on (press twice), a volume control knob and a button to quickly turn off the microphone, as well as a mini-jack 3.5 mm port, USB-C and microphone plug.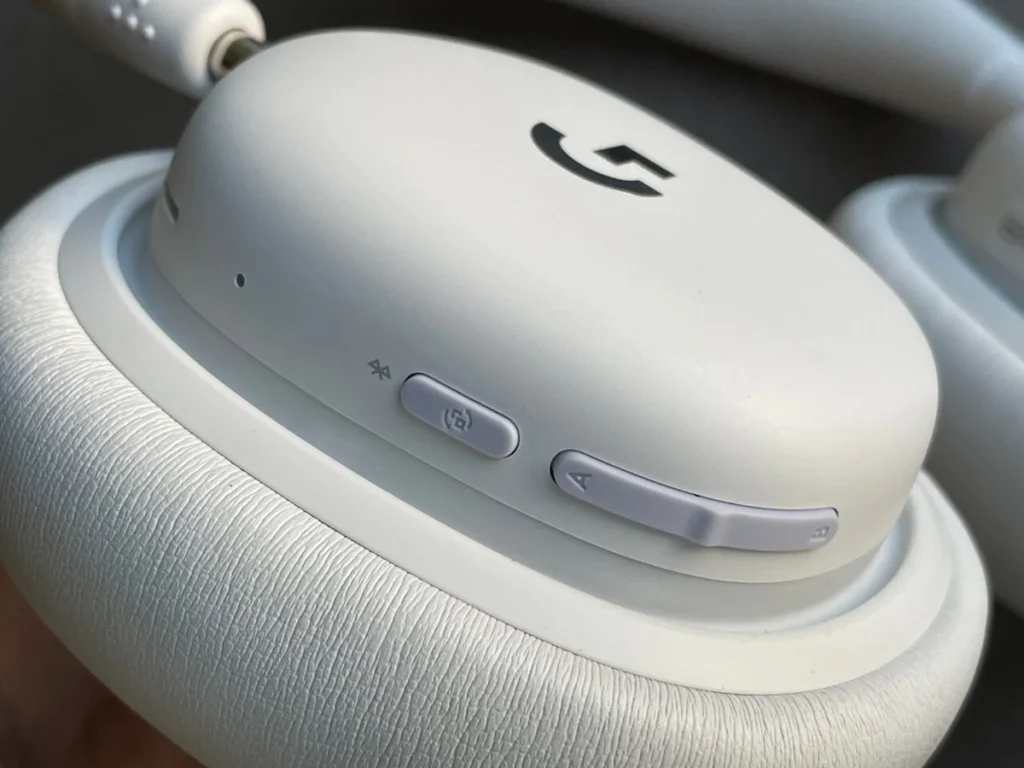 I received Logitech G735 headphones in the basic version, in White Mist color, but it must be added here that the user can personalize the accessory a little more by changing the color of the earpieces and the microphone boom. Well you can choose these accessories from the Logitech Store for Logitech G735 in pink (Pink Dawn) or green (Green Flash) for USD $19.99, although I personally think that the white version looks the best. Optionally, the manufacturer also offers, for USD $39.99, case for the headset, mouse and cables.
Operation and sound quality
How do I evaluate the use of Logitech G735 headphones in practice? This is definitely one of the most comfortable sets I have had the opportunity to use. I wore them during gaming sessions, during videoconferences and while watching series – we spent many hours together with the first season of "Sandman". I also used them to listen to different genres of music – they sound very good in every case, in every application. Perhaps people used to audiophile brands would have many reservations, but from the point of view of an average user, for an untrained ear, they sound… just very good.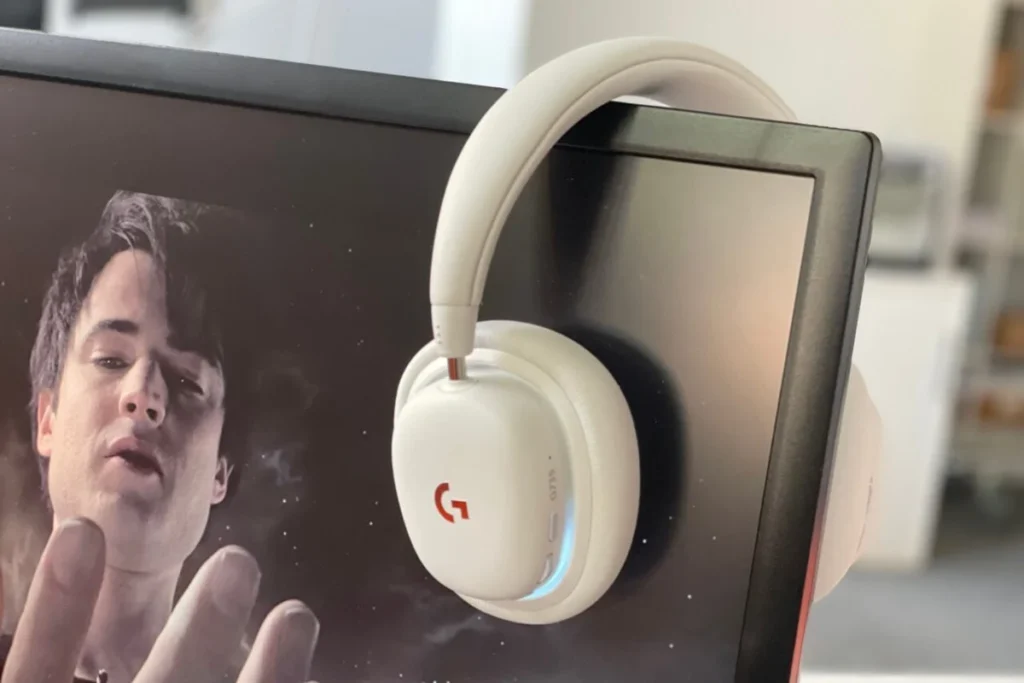 The soft, comfortable headband and the refined design of Logitech G735 meant that I did not feel their weight on my head, the hair did not get tangled when putting on or taking off the accessory, and the large earmuffs not only perfectly insulated me from the sounds from the environment (although there is no ANC system and generally the sounds from the surroundings are not blocked), but also prevented me from having any problems with the excess of earrings, which, with less comfortable headsets, simply stick in the neck or in the ear.
It is worth paying attention to the microphone technology Blue VO!CE. According to the manufacturer, it includes Real-time voice filters to reduce noise, making your voice richer, cleaner and more professional. Basically, the idea is for it to cut through the sounds of the games. In practice, the effect is audible and noticeable, although the effect does not sound natural – you can hear that the voice is heavily processed. It's louder, more powerful, and noise and background noise are reduced to a certain extent, but it sounded a bit like Awarness mode on ANC headphones. Nevertheless, while playing or video calling, everyone heard me loud, clear and clear, and this is the most important thing here.
Connectivity and working times
The Logitech G735 headphones can be connected to the sound source in three ways – via the AUX cable (3.5 mm jack) and wirelessly, using LIGHTSPEED technology and Bluetooth. Furthermore, there is a button on the right ear cup that toggles between LIGHTSPEED and AUX (connect button). This is not the end of the connectivity features – the headphones can also receive sound from two devices at the same time. The Bluetooth module and either LIGHTSPEED or AUX are then used. To adjust the balance of the sound source, use the mixer paddle on the right ear cup. It worked without problems when connecting BT with a smartphone and LIGHTSPEED with a PC).
According to the manufacturer, the range of wireless modules is about 20 meters and these are not empty declarations. I was able to walk around the apartment without any problems, and the headphones did not lose connection.
The battery offers good, but not impressive runtimes. The manufacturer gives the following values:
Up to 16 hours of playtime with the backlight on and the volume set to 50%.
Up to 56 hours of playtime with backlight off and volume set to 50%.
Considering that when using a computer, discharged headphones can be connected with a USB cable and continue to use them while charging, this aspect was not particularly painful for me, however, it is impossible not to mention that many wireless headphones offer longer working times (HYPERX Cloud Alpha Wireless promise up to 300 hours per charge) and even replaceable batteries included (eg STEELSERIES Arctis Nova Pro Wireless).
Logitech G Hub app
Logitech G HUB is an application that offers wide possibilities to users of mice, keyboards, headphones, speakers and other devices from the Logitech G series. In the case of a headset, this means a wide range of settings related to BLUE VO! CE, equalizer, surround sound and backlight.
The application allows you to activate and configure the BLUE VO! CE technology. It's a set of effects and tools that make your voice sound loud and clear. The user can select and test the selected settings: subtle smoothing, warm and classic, loud or soft. There are also interestingly named equalizer modes, e.g. a smiling face, but also FPS, MOBA, mid-range clarity, bright and expressive and strong bass.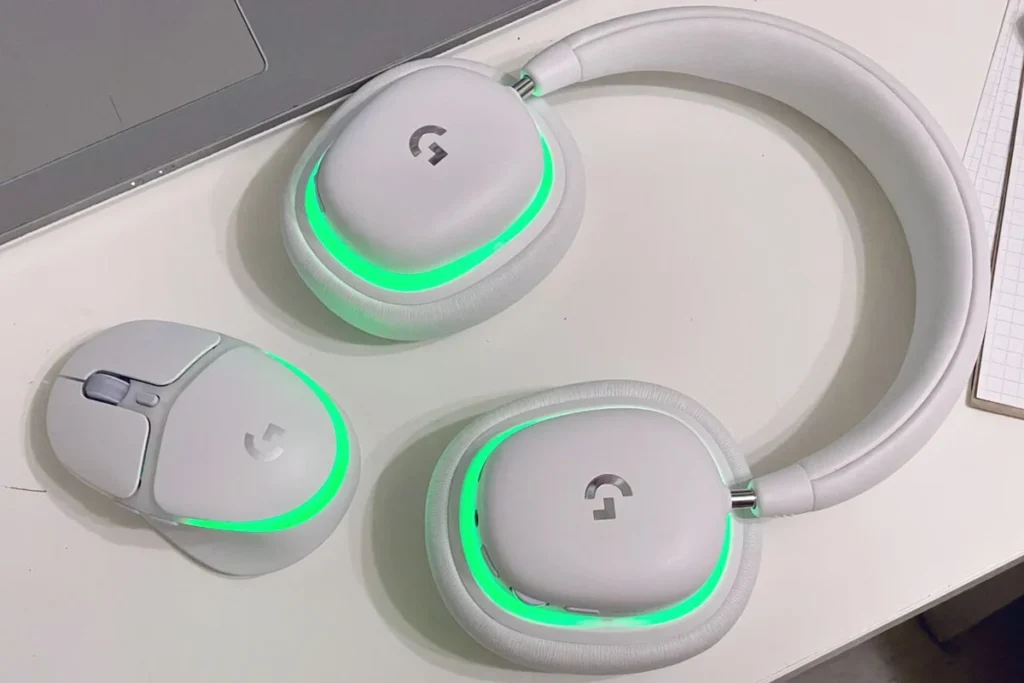 The manufacturer emphasizes the presence of virtual surround sound, based on DTS Headphone: X 2.0 technology. Like other accessories from the Aurora collection, the headphones can also be personalized in terms of lighting effects (animations named breathing, color cycle, color wave and immersion) – you can also choose one color or turn off the backlight. I also like the ability to sync the backlight of selected devices – it worked seamlessly with the Logitech G705 headphones and mouse. Well, apart from the fact that while wearing headphones, we will not see this backlight …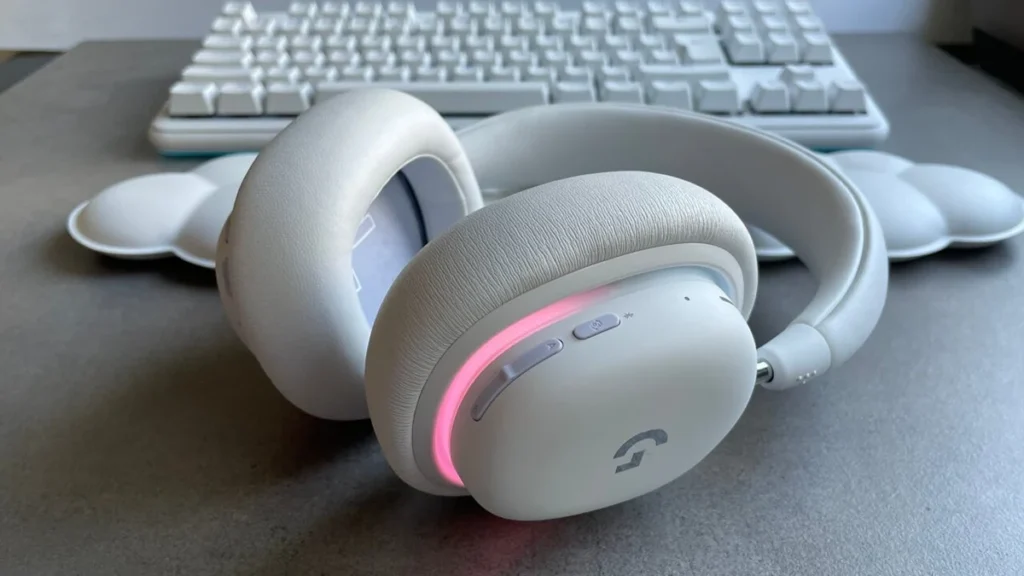 About Post Author