You know him as Han Solo and Indiana Jones, but Harrison Ford has many more interesting roles and films to his credit. On the occasion of the actor's 80th birthday, I am looking at the most noteworthy ones.
Harrison Ford – a truly cosmic career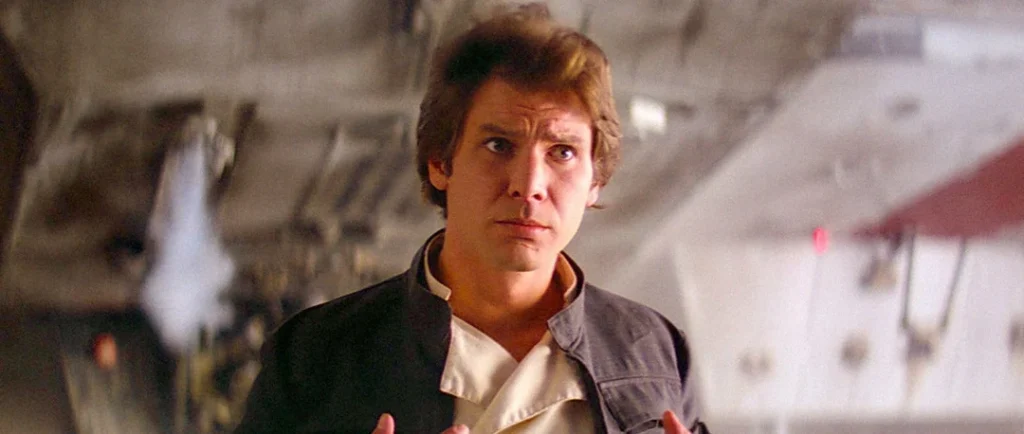 Harrison Ford is a rare actor who made two incredibly popular movie series, of course, "Star Wars" and "Indiana Jones". Most actors dream, unsuccessfully, to be able to star in at least one popular series. Additionally, Ford had franchises that redefined entertainment cinema and became legendary.
In addition, he has starred in an astonishing number of films that have become classics, such as Blade Runner, Mosquito Coast and The Fugitive. He spent almost the entire 80s and 90s choosing interesting projects for himself, which almost always brought profits to producers. And above all, he had a great nose, because not every actor is able to build such a great output for himself. And he could still be a carpenter.
Star Wars series
The role of Han Solo not only marked the beginning of one of the most impressive careers in Hollywood history, but also left its mark on pop culture and became the starting point for new entertainment stars. A space smuggler with character is one of the highlights of "Star Wars" – without him this series would certainly lose a lot. Harrison Ford, although not an outstanding actor, has a specific, unmistakable personality that he transfers to his characters, to such an extent that, like in the case of Indiana Jones, it is unimaginable to replace him as Han Solo.
Indiana Jones series
While in "Star Wars" Harrison Ford was one of the elements of a larger whole (an extremely important element, but still one of many), the " Indiana Jones " series was already fully focused on him. And she made full use of its potential and screen charisma. So much so that no one can imagine anyone ever being able to put on Jones's hat after him. And the series itself, well, so much has been said and written about it that there is nothing to repeat itself about. Not only the classic of adventure cinema, but also one of the films that shaped modern entertainment cinema.
Blade Runner
The role of Rick Deckard in the movie Blade Runner was an interesting choice for Ford . We are talking about the early 1980s, when he jumped from the set of one big hit ("Star Wars") to another ("Indiana Jones"). He was the biggest star in the world and didn't have to play anything else.
Meanwhile, Harrison Ford chose an ambitious project prepared by Ridley Scott , as if in a science-fiction envelope but still much more demanding than the viewer. This time, he turned colorful and purely entertaining productions into a dark and oneiric version of the future. It paid off. Although "Blade Runner" did not become a box office hit, over the years it has gained cult status, having a significant impact on science fiction and the cyberpunk sub-genre. For many, it is also one of the best movies of all time.
Witness
It was "The Witness" that was the first major shift in Ford's career towards dramatic roles in more modest productions with ambition. And it did not fall into the wrong hands, because the director of "The Witness" was Peter Weir . The whole thing begins as a criminal story set in an interesting and somewhat "exotic" Amish environment, but over time turns into a charming melodrama.
Pursued
In 1993, "The Fugitive " became one of the top-grossing films not only of the year, but also of all time, which strengthened Ford's position as one of the greatest movie stars, who, after hits in the 70s and 80s and in the third decade of his career, still can attract crowds to cinemas. This time, as a doctor wrongly accused of murdering his wife, he must run away and prove his innocence.
Mosquito Coast
Another collaboration with Peter Weir after the great "Witness" is not the same successful, though certainly not a bad movie, " Mosquito Coast ". This is undoubtedly one of Ford's most interesting acting roles. He plays the role of an extravagant scientist convinced that nuclear destruction is imminent and who decides to move with his family to the jungle.
Frantic
After finishing his adventure with the Star Wars brand (at least then) and a longer break on the set of "Indiana Jones", Harrison Ford chose some really non-obvious and interesting projects for himself. He ran as far as possible from the Hollywood star model as he could. One of the examples of such a state of affairs was, for example, " Frantic ". Filmed in France by Roman Polański , a Kafkaesque thriller about a man who begins his search for his wife after a woman suddenly disappears without a trace.
Presumed innocent
From the Millennium Falcon pilot, an adventurous archaeologist, to a prosecutor. Even though Harrison Ford does not have any outstanding acting talent, he performs convincingly in almost every role. And as you can see it is absolutely enough, at least for him. In this production, the protagonist is accused of murdering his co-worker. Ford is extremely comfortable playing characters who have to deal with a system that has turned against them.
Air Force One
Here's another Ford video that doesn't actually age at all. This is, of course, a typical Hollywood action show from the 1990s, in which Harrison plays the role of the US president trying to recover the Air Force One plane from the hands of terrorists. Who, how to whom, but I believe him that he would really do it. In addition, we also get the brilliant Gary Oldman as a terrorist.
Movie rankings worth reading
On our website you will also find many other rankings and lists that are worth reading. Below is a list of them and we encourage you to read them.
About Post Author